Sen. Orrin Hatch Was on Record Just a Few Days Ago Saying Merrick Garland Is 'a Fine Man'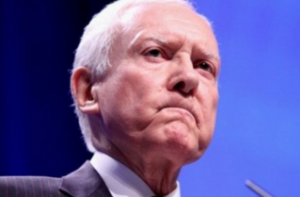 Utah Senator Orrin Hatch is widely regarded as "one of the U.S. Senate's foremost scholars of the Constitution and the Supreme Court," according to NewsMax. Also according to NewsMax, he said last week that while Merrick Garland would be a great selection by President Barack Obama to fill the vacancy on the Supreme Court, "He probably won't do that because this appointment is about the election. So I'm pretty sure he'll name someone the [liberal Democratic base] wants."
This is not the first time Hatch has made a shocking proclamation of questionable veracity or judgment. He once referred to progressives as "strait old dumbass liberals" and has threatened to punch "radical libertarians" in the mouth.
Hatch is on record praising Garland all over the place — saying last week that Garland "is a fine man" — continuing: "[The Republicans refusing to vote on Obama's nominee is] the chickens coming home to roost."
Now what you gonna do republicans? You have no excuse not to put Obama's nomination to a vote. #SCOTUSNOM #scotus pic.twitter.com/GciLbVb6DY

— Justin Edwards (@JustinGMUhokie) March 16, 2016
Now that Obama has defied Hatch and nominated Garland, the man Hatch and others have said would be an easy bipartisan pick, will he also be proven wrong about the chickens roosting? More than likely not, given the fact that they've already spoken out about how they won't vote on Garland out of "principle." There has already been some backlash from people outside of the Senate, too, but anything can happen these days so we can't rule anything out altogether.
[image via screengrab]
For more from Lindsey, follow her on Twitter.
Have a tip we should know? tips@mediaite.com