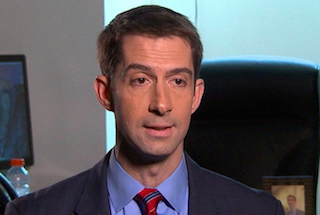 For this week's New York Times Magazine "Talk" feature, Mark Leibovich interviewed freshman Senator Tom Cotton (R-AR) about his infamous letter to Iran and his decision to become a Republican. But the heart of the discussion revolved around birthday cake.
Read the full exchange below and see if you can detect the tiniest bit of disdain on Leibovich's part:
You have been described as having very little appetite for frivolity. Do you have any guilty pleasures? I run a lot every morning.

That sounds neither guilty nor pleasurable. But I do it so I can indulge in the guilty pleasure of eating birthday cake.

Every day? Most days, with ice cream. Early on, when my wife and I were dating, we went to the grocery store, and I told her that sometimes I just buy birthday cakes, and I eat them. And she said: "Really? I do, too."

Even if it's not somebody's birthday? Yes. She went to the grocery store yesterday and picked up a white birthday cake.
First of all, Michelle Obama would be seriously disappointed in this admission. Even if you run a lot every morning, eating birthday cake and ice cream every day is not an advisable move. But beyond that, is Cotton even telling the truth? If he really ate birthday cake every day, then shouldn't a Google image search of "tom cotton birthday cake" produce at least one photo of him doing so?
Leibovich ended his interview with this gem of a question, in which he does his best to sum up This Town
: "You have been mentioned as a potential running mate on a Republican presidential ticket in 2016. What's your preferred line for ducking questions and feigning noninterest in the job?"
"I am focused on the work that the people of Arkansas sent me to do," Cotton replied.
[Photo via screengrab]
— —
>> Follow Matt Wilstein (@TheMattWilstein) on Twitter
Have a tip we should know? tips@mediaite.com