Senate Candidate Jeff Greene Gets Corrections From Florida Papers Over Mike Tyson Drug Stories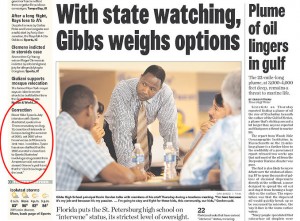 Democratic candidate Jeff Greene was none too happy about a series of stories that ran in the St. Petersburg Times and Miami Herald, two of which alleged that he had coke and stripper filled parties aboard his yacht with none other than Mike Tyson. Apparently rumors like that don't really help a guy's chances of getting elected to the Senate. Greene's legal counsel threatened a whole bunch of repercussions last week and now it looks like the complaints may have actually had merit. Both the Times and the Herald printed corrections in today's papers.
The original stories stemmed from a Sports Illustrated interview with Tyson that dealt with the former boxer's drug problems. Greene and Tyson are good friends (Tyson was actually the best man at Greene's wedding) and the articles reported that the drug fueled parties that Tyson discussed were from his time hanging out on Greene's yacht, the Summerwind, something Greene has vehemently denied, stating that there is a "drug-free policy" on his yacht.
Today, the Times printed this correction (on their front page!):
CORRECTION: Boxer Mike Tyson's July interview with Sports Illustrated described his travels in Europe during the summer of 2005, not 2007 when he served as Jeff Greene's best man. In addition, Tyson has since made clear that the 2005 events he described to Sports Illustrated involving a drug dealer from Amsterdam did not occur aboard Greene's yacht and that he "didn't do drugs on the boat." An earlier version of this story was incorrect.
The Herald published a similarly worded retraction.
Interestingly enough, only a day before Greene's counsel sent a letter to the Times complaining about the Tyson article, they had sent another one complaining about an earlier story detailing some of Greene's real estate transactions. The letter demanded a retraction of equal size to the original report or legal action would follow. As far as we can tell, that has not yet happened.
Have a tip we should know? [email protected]