Senate Democrats Call for SCOTUS Nominee Vote to Be Taken Up After Midterm Elections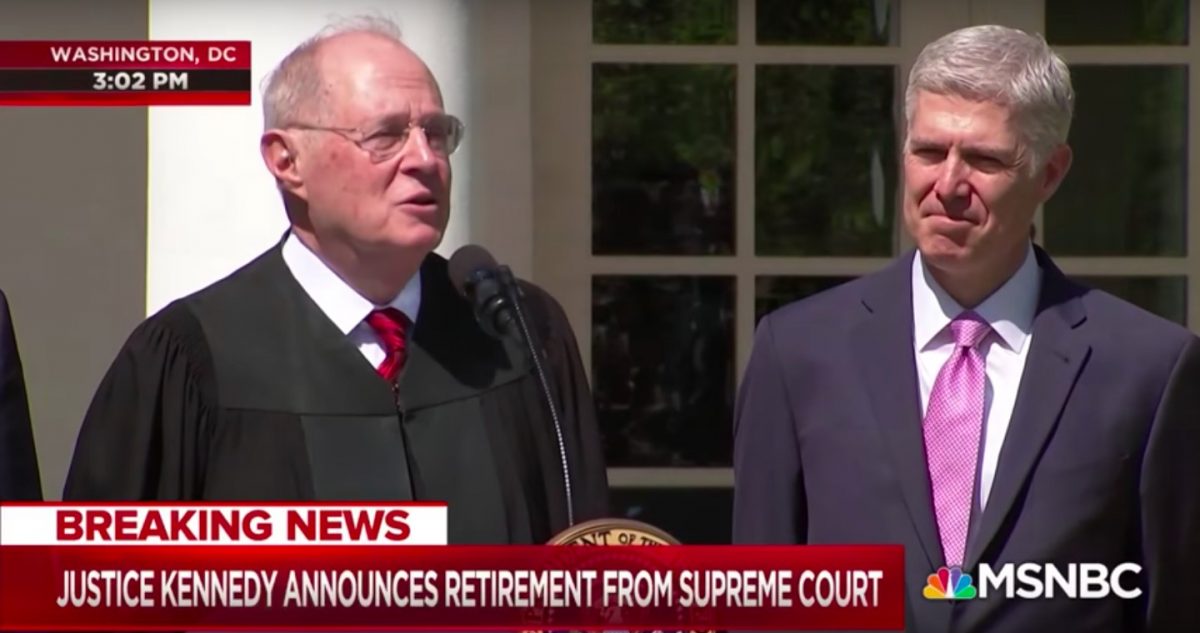 As many suspected, some Democrats in the Senate plan not to confirm President Donald Trump's second Supreme Court nominee until next year.
Several Senate Democrats tweeted Wednesday that they plan not to vote on a Supreme Court nominee until after the midterm elections in November, which have the potential to flip the House and the Senate and force President Trump to nominate a more moderate judge than he is planning to tap.
In doing so, Democrats are citing Senate Majority Leader Mitch McConnell (R-KY), who refused to hold a nomination hearing for President Barack Obama's Court pick Merrick Garland, on the grounds that it was an election year and that the "American people" had a right to a say in the nomination. The move was widely considered a show of obstruction and it deadlocked the Court for over a year.
But this apparently won't deter Dems from blocking Justice Anthony Kennedy's potential replacement, according to their statements on Twitter:
The @SenateMajLdr should follow his own rule. The Senate should only consider this nomination when a new Senate is seated in January. https://t.co/O2Tz39U5eA

— Senator Bob Casey (@SenBobCasey) June 27, 2018
The McConnell Rule is clear—the American people must have a say in the upcoming election Kennedy's seat is filled. And when the Senate considers the President's nominee next year, we need someone who will get broad support—not someone that will put special interests first.

— Chris Van Hollen (@ChrisVanHollen) June 27, 2018
The American people shld have a voice. A confirmation vote shld take place after a new Congress is seated. My Republican colleagues shld follow their own precedent.

— Richard Blumenthal (@SenBlumenthal) June 27, 2018
Here it is, plain and simple.

McConnell set the rule.

Now, he and Senate Republicans need to follow it.

No vote on a Supreme Court nominee until after the new Congress is seated.

— Chris Murphy (@ChrisMurphyCT) June 27, 2018
Millions of ppl are just months away from determining the senators who should vote to confirm or reject POTUS's nominee, & their voices deserve to be heard now, as @SenateMajLdr thought they deserved to be heard then. Anything but that would be the absolute height of hypocrisy.

— Chuck Schumer (@SenSchumer) June 27, 2018
Good call. https://t.co/zxuRWa5oIL

— Senator Dick Durbin (@SenatorDurbin) June 27, 2018
Given the stakes of this Supreme Court seat, which will determine the fate of fundamental constitutional rights, the American people, who will vote in less than 4 months, deserve to have their voice heard. We shouldn't vote on confirmation until they have voted at the ballot box.

— Kamala Harris (@SenKamalaHarris) June 27, 2018
No nominee should be considered until AFTER the election.

— Senator Jeff Merkley (@SenJeffMerkley) June 27, 2018
Mitch McConnell should follow the Mitch McConnell rule. Let the American people have a say when women's health and equal rights are on the line.

— Elizabeth Warren (@SenWarren) June 27, 2018
The American people should have a voice in the selection of their next Supreme Court Justice. #Kennedy pic.twitter.com/TAgp0yzPeX

— Tammy Duckworth (@SenDuckworth) June 27, 2018
The President just said the next Supreme Court nominee WILL come from his list of 25 judges that passed his overturning Roe v. Wade litmus test. We need to say NO hearings before the election and work our hearts out and take back the Senate. https://t.co/9HzyIhLQei

— Kirsten Gillibrand (@SenGillibrand) June 27, 2018
[image via screengrab]
Have a tip we should know? tips@mediaite.com