Seth Rogen Accused Sony of Trying to 'Make North Koreans Happy' in Leaked Emails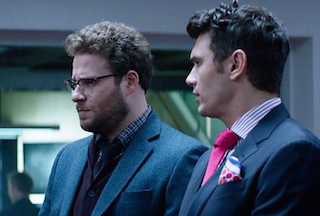 The major cyber-attack on Sony Pictures and subsequent leak of yet-to-be-released films and personal emails between executives and talent may not have been committed by the North Korean government. But evidence shows that it was almost certainly perpetrated by sympathizers to Kim Jong-un's regime, who are upset about their supreme leader's comedic portrayal in the new film The Interview, starring Seth Rogen and James Franco.
Now, thanks to that leak, we have additional insight into how Sony Pictures attempted to restrain co-director and screenwriter Rogen in his characterization of the North Korean leader. Reuters has reported excerpts from an email conversation between Rogen and Sony Pictures Entertainment co-chair Amy Pascal that demonstrate how the conflict played out.
The emails concern a request from Sony Corp. Chief Executive Kazuo Hirai to tone down a moment when — spoiler alert! — Kim Jong-un's head apparently explodes. When Pascal passed on the notes to Rogen, she told him she had never before received a specific request like this one from the company's Tokyo headquarters.
While Rogen apparently agreed to some of the suggested changes, he wrote, "The head explosion can't be more obscured than it is because we honestly feel that if it's any more obscured, you won't be able to tell it's exploding and the joke won't work." He added, "This is now a story of Americans changing their movie to make North Koreans happy. That is a very damning story."
After months of negotiations on how the scene in question would be portrayed, they eventually arrived at the compromise that everyone involved could live with. "This is it!!! We removed the fire from the hair and the entire secondary wave of head chunks," Rogen wrote to Pascal. "Please tell us this is over now."
This past weekend, Rogen and his Interview co-star were joking about the Sony leak on Saturday Night Live. Watch video below, via NBC:
[Photo via screengrab]
— —
>> Follow Matt Wilstein (@TheMattWilstein) on Twitter
Have a tip we should know? tips@mediaite.com