Seth Rogen Calls Out 'Idiots' at Newsbusters for Quoting His Parody Twitter Account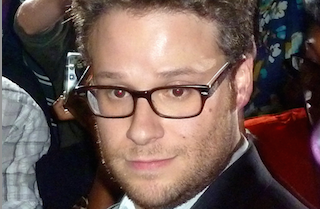 As comedian Patton Oswalt pointed out this week, Seth Rogen has officially joined the "click-bait club," meaning every little thing he says on Twitter or in interview will instantly be dissected by the click-hungry media (this site included). But if the press is going to pick apart his words, they could at least stick to things he actually said.
On Saturday, the conservative watchdog site Newsbusters published a lengthy takedown of the actor titled, "Seth Rogen and the Liberal Media's Night of the Long Knives." The article was written by none other than former Reagan White House political director Jeffrey Lord, who characterizes Rogen as a Hollywood hypocrite for the way he reacted to Washington Post columnist Ann Hornaday heaping blame on his movie characters for last week's mass shooting in Isla Vista, California.
On Monday, Rogen tweeted:
.@AnnHornaday I find your article horribly insulting and misinformed.

— Seth Rogen (@Sethrogen) May 26, 2014
.@AnnHornaday how dare you imply that me getting girls in movies caused a lunatic to go on a rampage.

— Seth Rogen (@Sethrogen) May 26, 2014
So, where does Lord find the hypocrisy? In an "Ann Hornady-style message" he reports Rogen sent out about Mitt Romney during the 2012 election. The only problem is that the tweet in question, which compared Romney to the KKK, was actually sent by one of Rogen's many parody Twitter accounts. Ironically, Lord's source for the erroneous tweet was the leftist group Moveon.org. That's got to hurt.
Rogen himself noticed the error and tweeted this response to Newsbusters early Saturday afternoon:
.@newsbusters your stupid article is quoting one of my parody accounts, you idiots. Ha! Way to fucking suck! pic.twitter.com/zYY4Yc6HJU

— Seth Rogen (@Sethrogen) May 31, 2014
Lord goes on is his piece to pick apart everything that is wrong with the Romney tweet, including the fact that the candidate never actually used the slogan "Keep America American." But of course, none of that matters much in relation to an argument about Rogen, who had nothing to do with the tweet in the first place. As for the parody account that did send it out in 2012, it has been appropriately suspended.
So far Newsbusters' piece, which is based entirely on a premise that has no basis in fact, has not been updated or corrected.
Update — Jun. 1, 11:30 a.m. ET: On Saturday night, Newsbusters' Lord posted the correction below to his column, complete with a link to Mediaite's piece about the mistake. While he did apologize to Rogen for the error, Lord mostly just took the opportunity to make fun of Moveon.org for falling for the same parody account:
CORRECTION: Seth Rogen has "parody" twitter accounts. And he's upset with me because I mistakenly quoted one of them as real. He has called me an "idiot." The source where I found this originally – and duly and deliberately linked – was the lefty MoveOn. MoveOn was apparently fooled by the "Real Seth" parody, which in turn fooled me, although in fact the parody was well out there. MoveOn having long ago become a parody I was quite happy to link it. So the notion that a Hollywood liberal would simply parrot this Romney/Klan story was all too easy to believe. But in fact, it was a parody. Our apologies for the error.
[Photo via Wikimedia Commons]
— —
>> Follow Matt Wilstein (@TheMattWilstein) on Twitter
Have a tip we should know? [email protected]