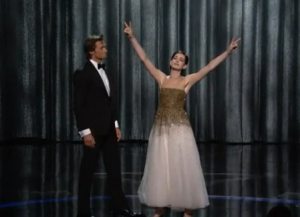 Earlier this week, I hosted an online panel examining gender stereotypes surrounding sex and the double-standard in relationships and the workplace, hooked on the release of the film Love & Other Drugs, in which Anne Hathaway and Jake Gyllenhaal play a couple who initially meet because they are both fans of casual sex. That begins with a double standard, because while the Gyllenhaal character is expected to be a ladykiller, presenting a female counterpart to that attitude and lifestyle is much more rare in film, and is usually framed accordingly (in this film, Hathaway's character's backstory is that she has Parkinson's – that's not a spoiler, it's in all the ads – but it explains her don't-get-too-close attitude. The male character, of course, needed no such explainer). So: I brought together some smart women, sharp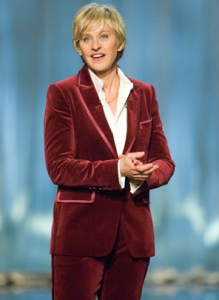 observers of media across industries, and how the norms, expectations and stereotypes of women are portrayed therein.
Fast forward to today, when it was announced that Anne Hathaway will be co-hosting this year's Academy Awards, with James Franco. Part of the story has been that Hathaway is only the third woman to do so since 1986 (the other two being Whoopi Goldberg and Ellen DeGeneres). Looking back at the history of Oscar, there have been a few female co-hosts dotting the timeline but only two solo hosts (Whoopi and Ellen, again, in case you were confused and thinking Uma and Oprah).
The LA Times' Envelope blog crunched the numbers back in 2007, prior to DeGeneres' hosting turn:
Sure, females have served as occasional co-hosts: Beginning in the mid-1950s, women occasionally emceed in years when multiple hosts were used. Rosalind Russell was one of five in 1958, Carol Burnett one of four in 1973, Jane Fonda one of four in 1977 and Goldie Hawn one of three in 1986….

Still, if you take Goldberg's four shows and add in all the fractions from other female hosts (one-fifth of a show from Russell, one-fourth from Burnett, etc.), you end up with a paltry six and three-quarters Oscar shows, out of 78, that have been hosted by women.

(The list: Russell, Helen Hayes, Burnett, Diana Ross, Shirley MacLaine, Goldie Hawn, Ellen Burstyn, Fonda, Liza Minnelli.)
Add to that Ellen DeGeneres' turn, plus one more for Jon Stewart, Hugh Jackman, Alec Baldwin and Steve Martin, for 7 3/4 Oscar shows out of 82.
The ratio doesn't occur in a vaccuum. In 1975, Shirley MacLaine noted dryly from the stage: "An interesting thing happened in films last year — not many of us women were in any." In 1999, Whoopi Goldberg made a joke about Elia Kazan's honorary Oscar, saying: "I thought the blacklist was me and Hattie McDaniel" — the only two African-American women to have won Oscars (in 2002, Halle Berry joined their ranks). As for hosts: Chris Rock in 2005 was the only African-American in the role to join Goldberg since Richard Pryor was 1/4 of the hosting team in 1983 (and before that, Diana Ross in 1974 and Sammy Davis Jr. in 1972). And of course we're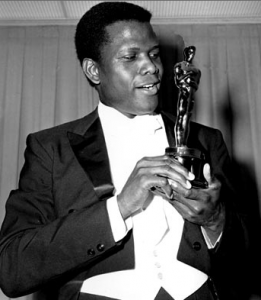 talking about actors and hosts here — the director category only got cracked last year with Kathryn Bigelow, and has yet to go to an African-American.
So — it helps to have visual embodiments of diversity out front. Like NPR's Linda Holmes wrote: "The line of tuxes really does need to be interrupted now and then, and she seems like just the lovely and talented goofball to do it."
Which brings us back to that ratio, and that vaccum. Despite last week's panel being sponsored by Love & Other Drugs, we didn't spend much time talking about films. It was more of a general discussion of norms and stereotypes — but recognizing and acknowledging them reveal just how broadly they permeate society. (Related: The Bechdel Test, for movies – and for media.) Is this post a thorough discussion of the topic? Not by a long shot. Did we even come close to scratching the surface in our 45-minute discussion? Ha, not even close. But, these are good conversations to have and go a long way down the road of one day, hopefully, not having to have them at all.
>>>NEXT PAGE: VIDEO CLIPS FROM THE "SEX, LOVE & THE DOUBLE STANDARD" PANEL
Have a tip we should know? [email protected]