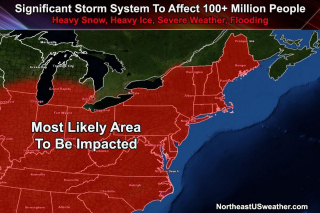 Considering the type of irrelevant nonsense that typically goes viral on the internet, you might consider widely-shared news of an impending snow storm a step in the right direction. At least this is something that could potentially have an impact on our real lives, right? But the latest viral sensation, a harbinger of wintry destruction and woe, is yet another example of how no one even bothers to read just what it is they're sharing before firing it off into the fray.

A post from something called Northeast Storm Center caught my attention when I started noticing it showing up in my Facebook feed yesterday. "**SIGNIFICANT STORM SYSTEM 100+ MILLION PEOPLE! THIS COULD BE THE BIGGEST STORM OF THE YEAR**" read the headline. Woah! That sounds serious. 26K people had shared the post on Facebook when I first checked. Later that night as I was calling it out as a hoax on Twitter that number was nearing 60k. This morning it was up to 120k. At the moment, well, it's hard to tell, because the site has crashed due to server overload.
While there are certainly indications that there will be snow storms next week from traditional weather news sources, as any meteorologist will tell you, predicting that far ahead can be a dicey proposition. So what's going on with this page in particular? Well, the second half of the viral post's text is a little more telling.
"SHARES REQUESTED AS THIS COULD BE A MASSIVE STORM SYSTEM!"
In other words, please share this blog post IN ORDER TO SAVE LIVES. But mostly just share it.
Curiously the storm seems to stop right at the Canadian border. Science is weird.
Had anyone bothered to look at the page in question, you'll notice there are only three posts on the site, the rest, which are still linked from their Facebook page, have all been taken down. The Facebook page for Northeast Storm Center has a header image of fireworks and celebrated the fact that the page reached its goal of 20k likes. It's now at 28k+.
On their info page, they explain a bit more about themselves. "Our mission is to provide fast, accurate and reliable weather forecast that you cannot find anywhere else on Facebook! Our mission is to reach 25,000 likes by April of 2014!"
Mission accomplished!
Further down they explain that the site was started by two high school students, a fact that is continuously brought up in the surprising number of arguments on their Facebook posts. It's just kids trying their best, the fans say. Never mind that their explanations sound like they are written by someone for whom English is not a first language. That's either indication of a foreign phishing expedition, or, okay, perhaps more likely, just kids being illiterate.
So why are we trusting a couple of "amateur kids" screwing around on Facebook? Because we're stupid. And we're gullible. And we have literally forgotten how to read. The thrill of sharing a post about impending destruction, and using it as a jumping off point to complain about the weather is more important to us than looking like rubes. It works every time.
I emailed the contact info on the page to ask them about who they really are, but the message bounced back saying the email account does not exist.
There are plenty of other similar pages out there, all of which seem to confuse people with vaguely scientific-sounding talk of the various "models" they're following.
One even more popular page is The Weather Space, although it appears to be affiliated with Northeast Storm Center, including using much of the same type of language on their sites and design elements. A recent post about the same storm coming up, including another alarmist graphic, has been shared almost 300k times since yesterday.
These sites have big followings, a professional meteorologist, who asked to speak anonymously, told me. "Whenever they get it wrong they just delete the older posts. Whenever they get it right they discredit the local meteorologists for hiding the truth, or telling people too late."
In other words, we're dealing with sort of weather equivalent of InfoWars here.
"These sites like talking about storms weeks ahead of time, to the point where, as a TV meteorologist, we would not put that on the air. It's so far away, and the accuracy level is low."
Sites like these don't have to worry about accuracy, he said. "If they get it wrong, they say 'Well, we were just trying to warn you, weather changes.'"
This sort of storm-hysteria peddling can have actual negative consequences. Most often these types of sites are putting out worst case scenario predictions. And, as we know from everything else on the internet, hyperbole is what takes hold. "Sometimes warning people can create more trouble if you warn unnecessarily than when you actually have a better idea," the meteorologist told me. "I don't know if they're doing it to be mean, or just to get likes and shares and ad revenue, who knows – but they're certainly getting that. They have somewhat of a vendetta against broadcast meteorologists because we might be more cautious. Storms that look like a sure thing a week away can fizzle out, then there's nothing, and people have canceled their plans, changed dinner reservations, and local businesses are frustrated."
These sites, since they're often anonymous, or at least without a real public figure attached, have nothing to hold them back. "They can push whatever forecast they want, with potentially some computer model involved."
When they get it right, it's used a a rallying cry for fans to further bolster their truth warriors of the weather bonafides. "Even a broken clock is right twice a day."
On the Northeast Storm Center page, mixed in with defensive justifications for how they operate, and skepticism from professional meteorologists, not to mention plenty of complaints about plagiarism and non-attribution for data (none of the images of storms are consistent, and all seem pulled from other sites), the operators of the page spell out their m.o. They regularly ban people for contradicting their predictions as well:
Northeast Storm Center: You know what, I don't care if you think I'm being rude but you cannot just say "HYPE!" and not explain why. That is completely ignorant and you will be banned. If you don't like the way that we run this page then unlike it. I know its over a week away but I don't recall being this confident so far out… I don't recall the last time all models are extremely consistent and show some kind of storm so far out… ALL models show a storm, some are further south, some further north, some stronger, some slightly weaker. The fact is, there is a very high probability that a storm will occur. Who gets what? How strong will it be? How much will you see? What's the exact time frame? Those are the questions that are yet to be answered. You can all wait and see what happens before accusing us of being wrong, or you can leave. Thanks, and stay tuned for more updates!
That's mixed in with goofy weather-related memes, and, as you will in no way be surprised to hear, requests for donations. It takes a lot of money to run a scientific endeavor like this. And the more gullible people there are on board falling for their viral stunts, the more people there will be out there conned into giving them money.
Here's a telling update on a previous prediction of a horrific storm: "The weekend storm potential that everyone was saying it will be the storm of the season, is no longer anything but a nuisance."
Sounds familiar.
— —
Luke O'Neil is a self-loathing journalist and blogger in Boston whose work has appeared in Esquire, Slate, The New Republic and many others. Follow him on Twitter (@lukeoneil47).
Have a tip we should know? tips@mediaite.com