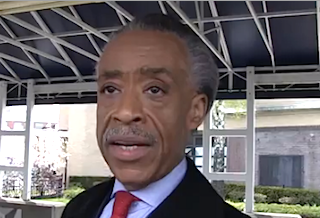 Al Sharpton followed up an appearance on Meet the Press Sunday in which he urged the NBA to suspend L.A. Clippers owner Donald Sterling by telling TMZ he plans to organize an advertiser boycott of the team if the league does not take action.
"He should be suspended immediately," Sharpton told TMZ, noting that Sterling has not denied that it is his voice making derogatory remarks about African-Americans on tape. "Let's quit stalling, let's quit copping out, NBA, let him go."
If that does not happen, Sharpton said he would begin calling major advertisers Monday morning to request that they stop sponsoring the Clippers. "You cannot run a major business in this country and expect people to buy from you if you advertise and sponsor a bigot," he said. "That's how we got rid of [Don] Imus, with advertising," Sharpton added, referring to the conservative radio host who he helped push off the air after he called the Rutger's women's basketball team "nappy-headed hos" in 2007.
In addition, Sharpton said that would refuse to accept an award from the Los Angeles branch of the NAACP on the same night the group was scheduled to give Sterling a lifetime achievement prize. "I think it would be an insult to all of us to be asked to stand on the stage with a man that said these things," Sharpton said. The NAACP has since said it will not be giving Sterling that award.
It appears that Sharpton's campaign may already be working. On Monday, both State Farm and CarMax announced they will pull their sponsorship of the Clippers following Sterling's remarks.
Watch video below, via TMZ:
[photo via screengrab]
— —
>> Follow Matt Wilstein (@TheMattWilstein) on Twitter
Have a tip we should know? tips@mediaite.com