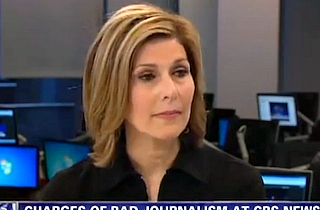 Former CBS journalist Sharyl Attkisson has talked very critically about the Obama administration, and claimed in an interview yesterday that she might be on the president's enemies list. Attkisson, of course, has been embraced by conservatives and greeted with skepticism and even scorn by liberals. Sites like Media Matters have been hammering her for months and saying that her book serves to confirm a conservative view of this administraiton.
And in an interview today with The Daily Beast, Attkisson was actually asked about the accusations that she's a "right-wing shill" (their words). She insists, "I'm not a conservative. I'm not a liberal. I really am one of those people who are mixed on many issues and can see many legitimate sides. If that makes them feel better to call me a conservative, if that explains in their minds why I'm covering a particular story, that's okay. It really is."
However, there is one detail that makes matters a little bit more complicated: Attkisson currently works as a senior independent contributor for The Daily Signal, a news site that happens to be ran by the conservative think tank Heritage Foundation.
Does this lend any more weight to critics' accusations? Attkisson disputes that too:
"I don't really care. I really don't. Obviously. What I cared about was that I'd have an outlet for my reporting. Would they allow my reporting to be editorially sound—meaning truthful, factual and going where the story leads, versus leading it somewhere where it wasn't supposed to go?"
And the Daily Beast interview might be the most critical Attkisson has done since leaving CBS, given that they bring up accusations she did stories that helped boost Republican congressman Darrell Issa and even put her on the spot about reports she's done on a previously-discredited link between vaccines and autism.
You can read the whole thing here.
Have a tip we should know? tips@mediaite.com
Josh Feldman - Senior Editor