Sharyl Attkisson Scoop: Deployment Of Counterterror Response Team To Benghazi 'Was Ruled Out From The Start'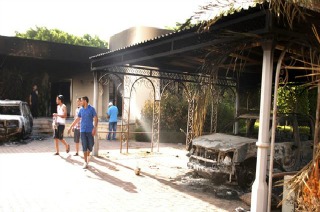 CBS News reporter Sharyl Attkisson, who has doggedly been pursuing the details of the federal government's response to the attack on an American consulate in Benghazi in 2012, spoke to a number of White House officials who told her anonymously that they regret the decision not to send Foreign Emergency Support Team (FEST), a counterterror rapid response team, into the theater of combat that night.

"We're portrayed by Republicans as either being lying or idiots," one unnamed Obama administration official told Attkisson. "It's actually closer to us being idiots."
According to Attkisson's report, a FEST team was ready to intervene in the Benghazi attack and was preparing to respond but were never given the approval to engage.
"With U.S. Ambassador Christopher Stevens reported missing shortly after the Benghazi attacks began, Washington officials were operating under a possible hostage scenario at the outset," Attkisson's report reads. "Yet deployment of the counterterrorism experts on the FEST was ruled out from the start."
RELATED: Cheney Blasts Obama's Benghazi Response On Hannity: 'We Were Always Locked And Loaded On 9/11′
"I wish we'd sent it," said another anonymous Obama administration official.
While the White House maintains that no response team could have made it to Benghazi in time to affect the outcome of that attack, which resulted in four dead American service personnel, the revelation that officials believed that a hostage situation was ongoing suggests that the administration was prepared for a long-term crisis in Libya.
As soon as word of the Benghazi attack reached Washington, FEST members "instinctively started packing," said an official involved in the response. "They were told they were not deploying by Patrick Kennedy's front office… In hindsight… I probably would've pushed the button."
"I don't see a downside to sending FEST…if for no other reason than so no one could ask why we didn't," another anonymous source told Attkisson.
Read Attkisson's report via CBS News
> >Follow Noah Rothman (@NoahCRothman) on Twitter
Have a tip we should know? tips@mediaite.com