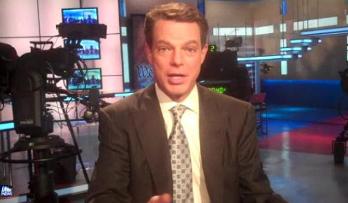 Fox News' Shepard Smith is one of the most unique, and best, anchors on all of cable news, but he hasn't exactly been new media friendly.
That's all changing now – as a new Web site for the 3pmET and 7pmET FNC anchor debuts today.
Check out Foxnews.com's Shepard Smith page here. An introduction video from Shep says, "What we're going to have is unique content every day," continuing, "We're going to put it on here, stuff about my favorite places to go in New York or the places I travel. And then whatever you think."
Also: "It'll have the most unique content of any television news personality, I guarantee it. Unless I get bored."
Smith epitomizes the "fair and balanced" motto Fox News likes to tout about its news division, but beyond that, he's a dynamic personality who can easily move from hard-hitting interviews to self-deprecating ribbing of his own network. If you've never seen Smith anchor during a car chase, you're missing out on the best way to view a cable news staple. He's someone who, frankly, I'm curious about his favorite places to go in New York. (On a personal note, while interning at Fox News, Smith addressed our entire group, and his f-bomb-laden speech and Q&A was a highlight.)
Now he's got his own site, featuring live chats, behind-the-scenes video and more. On the right side of the page he has links to his Facebook and MySpace profiles – which brings us to the key point. Shep Smith needs to get on Twitter.
> Update: Well he has an account, but now we need to get him to use it. Follow him (and his two updates, none since October) at Twitter.com/ShepSmith1. And it's not being promoted on his new site.
We've already got a campaign to get Glenn Beck to host Saturday Night Live (#BECK4SNL), and to that longshot we'll add a new campaign – get Shepard Smith to start tweeting. It should go hand-in-hand with this new site! Someone was pretending to be him earlier this year, but that account has now been shut down and was proven to be a fake. Let's make this happen.
• Earlier: CNN.com debuts their new site today. Here's our review.
Check out Shep's introduction video:


—–
» Follow Steve Krakauer on Twitter
Have a tip we should know? tips@mediaite.com