Shock! Mitch McConnell Cites 'Biden Rule' in Refusing to Consider Merrick Garland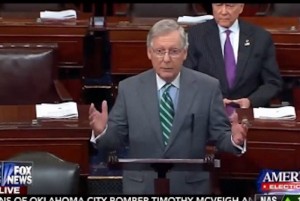 On Wednesday morning, President Obama made his opening gambit in the chess game that is replacing deceased Supreme Court Justice Antonin Scalia, announcing the nomination of centrist DC Circuit Court Chief Judge Merrick Garland to fill the vacant seat. Despite his qualifications, overwhelming previous support from Republicans, and name that sounds like a supporting character in a spy novel, Garland's nomination was met with immediate, if predictable, opposition from Senate Majority Leader Mitch McConnell (R-KY)
McConnell's main argument, of course, relied on what he calls the "Biden Rule," a reference to statements that then-Senator Joe Biden made in 1992 urging then-President George H.W. Bush not to nominate a hypothetical Supreme Court justice (there was no vacancy at the time) in the final year of his term:
The Biden rule supports what the Senate is doing today, underlining that what we're talking about is a principle and not a person. So here's our view. Instead of spending more time debating an issue where we can't agree, let's keep working to address the issues where we can.

…The Senate will appropriately revisit the matter when it considers the qualifications of the nominee the next president nominates, whoever that might be.
I'm no constitutional scholar, but I believe that McConnell's diatribe constitutes a verbal contract, and makes Joe Biden the boss of him.
All kidding aside, there has been an ongoing game of ping-pong involving old quotes about confirming justices, from both sides of the aisle, but there is a more reliable guide to how the President and the Senate should proceed than old C-Span clips. It's called the U.S. Constitution.
This is an opinion piece. The views expressed in this article are those of just the author.