Shocker: Donald Trump By Far Least Favorable Candidate Among Hispanic Voters
"They love me," Donald Trump said of Hispanic-American immigrants during an interview with NBC News last month. "And I'll tell you something: If I get the nomination, I'll win the Latino vote."
After viewing the latest Gallup poll of 2,183 Hispanic adults conducted over the weeks since he first made those statements, Trump's prediction looks more laughable than ever.
Just look at this graph put out by Gallup on Monday, showing Trump's net favorability rating with Hispanics compared to the rest of GOP field: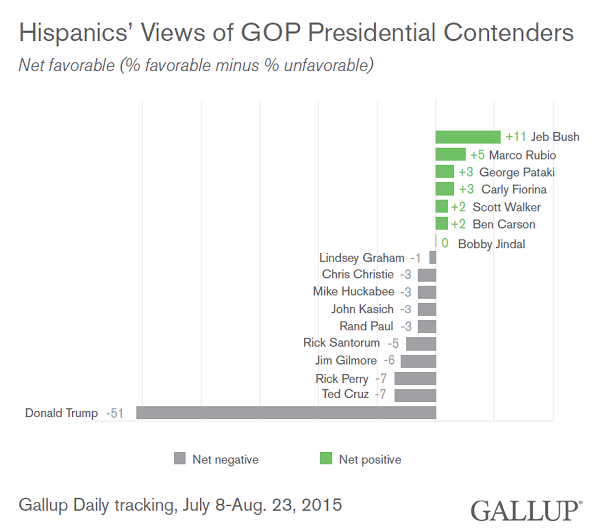 A full 65% of Hispanic voters surveyed said they view Trump unfavorably, with only 14% saying they have a positive view of the candidate. After calling Mexicans "rapists" and vowing to deport 11 million undocumented immigrants, it's a wonder those numbers are not worse for him.
Most of the GOP candidates have net negative ratings with Hispanics, but none of them come close to Trump. At -7%, Ted Cruz and Rick Perry are tied for the second-worst performance, but they are also less familiar to the population in question.
Meanwhile, Jeb Bush has the best rating of any Republican at +11%, with 34% of Hispanic voters viewing him favorably and 23% viewing him unfavorably. Of course, the survey mostly took place before Bush embraced the term "anchor babies." The Democratic candidates fared much better in the Gallup poll, with Hillary Clinton leading the pack at a +40 net favorability rating (58% favorable to 18% unfavorable).
In 2012, Latino voters, who made up 10% of the electorate, chose Barack Obama over Mitt Romney by a margin of 71-27%. Next year, the group is expected to grow to 11% of the total voting population.
[Photo via screengrab]
— —
>> Follow Matt Wilstein (@TheMattWilstein) on Twitter
Have a tip we should know? [email protected]