'Disgraceful & Shameful': Twitter Goes Nuts Over Trump's 'Bleeding' Facelift Tweet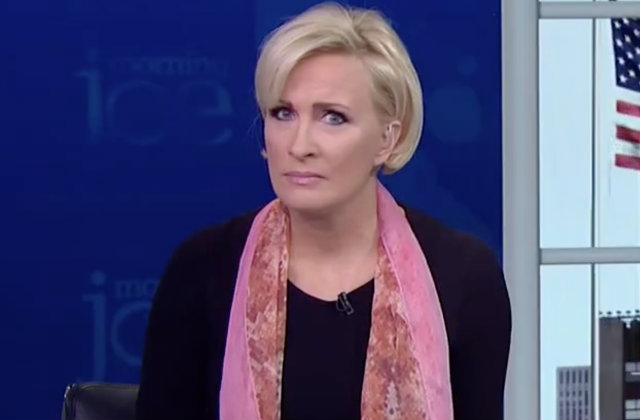 The Twitterverse is seething with rage after President Trump attacked MSNBC's Mika Brzezinski by mocking her for having plastic surgery.
Trump's media criticisms are almost a daily routine now, but he took thinks to a new level when he tweeted that the Morning Joe co-host was "bleeding badly from a face-lift" when they encountered each other on New Years Eve. This kind of slam is quite shocking, even by Trump standards, and Twitter is ripping the president apart for it.
This is disgraceful & shameful. The message this sends, that you can bully others like this w/out any shame or consequence, is disgusting. pic.twitter.com/jrvzJwIspd

— Gavin Newsom (@GavinNewsom) June 29, 2017
When moral conservatives warned a vulgarian at the head of the party would force us all to make hazardous compromises, this is what we meant https://t.co/Zbw2XnOxGy

— Noah Rothman (@NoahCRothman) June 29, 2017
Reminder: A man with this level of impulse control has the codes for thousands of nuclear weapons. https://t.co/nOZOB3EnVC

— Brendan Nyhan (@BrendanNyhan) June 29, 2017
Remember the stories about the legal team reviewing all of Trump's tweets? https://t.co/DkmXKd2ipw

— Jonathan Swan (@jonathanvswan) June 29, 2017
It must be said: if you're a Republican leader and you're still supporting President Trump, you own this.

— Evan McMullin (@Evan_McMullin) June 29, 2017
Mr. President, your tweet was beneath the office and represents what is wrong with American politics, not the greatness of America.

— Lindsey Graham (@LindseyGrahamSC) June 29, 2017
Please just stop. This isn't normal and it's beneath the dignity of your office.

— Ben Sasse (@BenSasse) June 29, 2017
JUST NOW: @SalenaZito calls the President's new statement, "repulsive. unpresidential. unfit for the office."

— John Berman (@JohnBerman) June 29, 2017
People who *still* think Ivanka actually issues corrective advice to her dad in private pic.twitter.com/lxcoRfS7CX

— Clara Jeffery (@ClaraJeffery) June 29, 2017
Classy dude. https://t.co/RoosxjDphz

— Ana Marie Cox (@anamariecox) June 29, 2017
The Unhingening https://t.co/GLzc3v9OG3

— colbyhall (@colbyhall) June 29, 2017
This crass, vulgar person, who obsesses over women's weight, looks and various aspects of their "bleeding," is PRESIDENT. Ruminate on that. https://t.co/MAyRplXzZS

— Joy Reid (@JoyAnnReid) June 29, 2017
You're a vulgar, cruel, childish, petty, vindictive, corrupt, traitorous monster. https://t.co/ZIMNhlR87y

— Bob Cesca (@bobcesca_go) June 29, 2017
This is not normal behavior pic.twitter.com/UvDqDXpZk1

— andrew kaczynski ? (@KFILE) June 29, 2017
Seriously dude, SHUT UP https://t.co/hki1FgzEfl

— Ben Shapiro (@benshapiro) June 29, 2017
I'm angry for my colleague @morningmika. I'm deeply embarrassed for our country.

— Joy Reid (@JoyAnnReid) June 29, 2017
Hah. Today would be a good day for Melania to weigh in on cyber bullying. https://t.co/5jd1kuPRyV

— David Corn (@DavidCornDC) June 29, 2017
The president and his family have recently decried 'the viciousness' of the opposition https://t.co/RJQpzfc4wv

— Glenn Thrush (@GlennThrush) June 29, 2017
It can't be overstated: Really entering uncharted waters for a president here. https://t.co/hMVYzytUVl

— Glenn Thrush (@GlennThrush) June 29, 2017
From the head of NBC News/MSNBC PR:
Never imagined a day when I would think to myself, "it is beneath my dignity to respond to the President of the United States."

— Mark Kornblau (@MarkKornblau) June 29, 2017
Here is how the hosts of Morning Joe have taken the slam so far.
— Mika Brzezinski (@morningmika) June 29, 2017

[Image via screengrab]
— —
>> Follow Ken Meyer (@KenMeyer91) on Twitter
Have a tip we should know? tips@mediaite.com