Shut Up, You Crazy Diamond: Rolling Stones to Play Israel Despite Pink Floyd Protest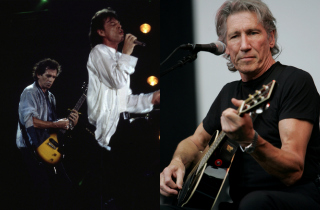 Pink Floyd pseudofrontman and four-decade wet blanket Roger Waters sent a plea to the Rolling Stones last month asking the empirically better band to cancel a performance in Tel Aviv to demonstrate solidarity with the Palestinian people. No dice: the Stones are going ahead with the concert, and have even agreed to push back the concert's start time to accommodate the end of the Jewish holiday Shavuot.

Waters' request is part of a concerted BDS campaign to convince major music acts to skip Israel. Justin Timberlake and Rihanna both recently played the Jewish state, though neither without controversy, while artists like Elvis Costello and Carlos Santana have previously cancelled shows.
But though ticket sales have been desultory for the Stone's first ever Israel gig (prices start at $200), some in the industry speculated the band may just be too big to pressure.
Waters, Floyd's most risible member, provoked controversy last summer when an inflatable pig, long a part of his Wall act, was sent aloft emblazoned with a Star of David (among other symbols). Last year, Waters called for a boycott of Israel in sympathy with the BDS movement, alleging Israel was treating Palestinians how he'd treated keyboardist Richard Wright.
"Playing Israel now is the moral equivalent of playing Sun City at the height of South African apartheid," Waters wrote in Salon, in conjunction with drummer Nick Mason. "Regardless of your intentions, crossing the picket line provides propaganda that the Israeli government will use in its attempts to whitewash the policies of its unjust and racist regime."
Meanwhile, Israel has Megadeath to look forward to next month. So, that's going well.
[Images via kojoku / Shutterstock.com / Northfoto / Shutterstock.com]
——
>> Follow Evan McMurry (@evanmcmurry) on Twitter
Have a tip we should know? [email protected]