Smiley Faces and Pleasantries? Gretchen Carlson's Handwritten Letters to Roger Ailes Uncovered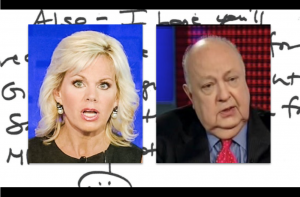 Scott Jones at FTV was the first to uncover a series of internal letters that he claims were apparently sent from former Fox News anchor Gretchen Carlson to Chairman and CEO Roger Ailes, who she filed a sexual harassment case against just days ago.
The three letters — all dated from the Fall of 2015 — reveal pleasant and optimistic exchanges from Carlson, who used the hand-written notes to often suggest herself for increased opportunities with the network.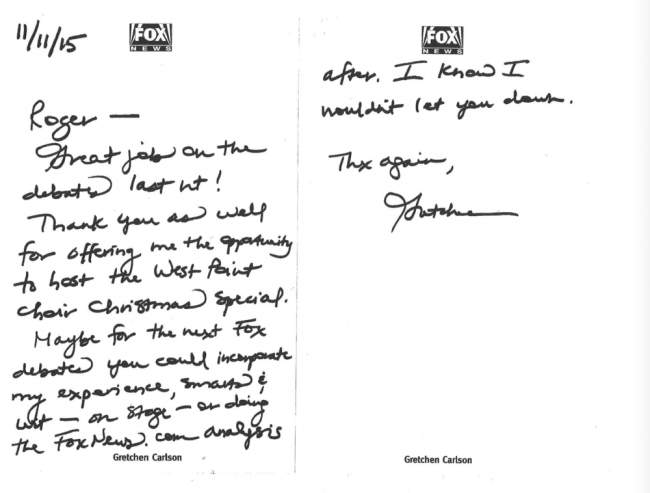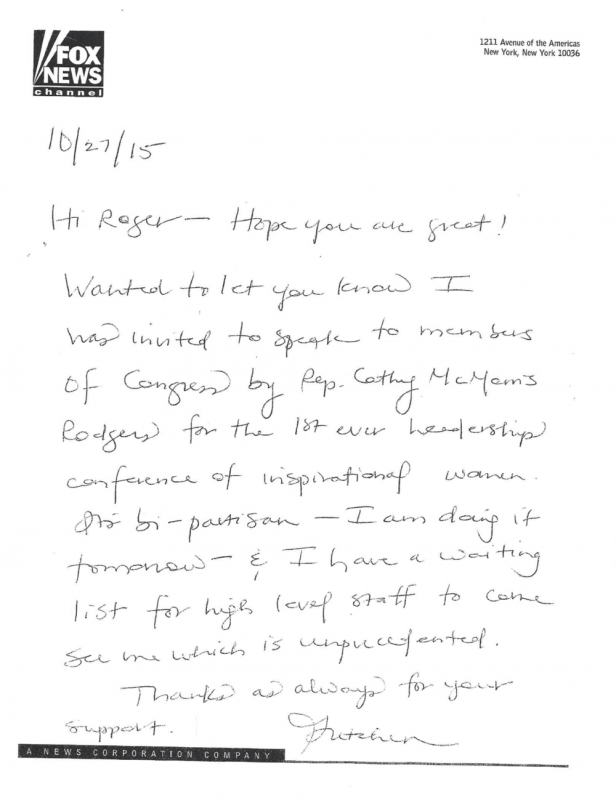 Carlson shocked the political media world this week when it was discovered that the TV vet filed a lawsuit against Ailes in New Jersey, claiming that her boss told her she would have been more successful at network had the two engaged in a sexual relationship. "I think you and I should have had a sexual relationship a long time ago and then you'd be good and better and I'd be good and better," Ailes allegedly told her.
Several hours later on Wednesday afternoon, Ailes vehemently denied the claims, saying through a statement, "Gretchen Carlson's allegations are false. This is a retaliatory suit for the network's decision not to renew her contract."
In the letters published by FTV earlier today, Carlson asks Ailes to, "…reconsider me filling in for Greta [Van Susteren] or Megyn [Kelly]." At times, the letters are complimentary of Ailes; Carlson congratulates her boss, noting, "Great job on the debate last nt!" in reference to the November 10th Republican debate on Fox Business Network.
As Jones writes in his post, "It will be interesting to see how Carlson's lawyers spin the letters that appear friendly and certainly not the kind you would send to a man that is harassing you." Though they certainly seem friendly, this isn't the first time that reports have indicated a easy disposition from Carlson towards Ailes despite the alleged misconduct. In her new book, Carlson thanks Ailes, referring to him as, "the most accessible boss I've ever worked for," and saying the Chairman was "razor sharp and inscrutable and we seemed to have a real connection."
However, as we all know, "playing the game" is certainly a part of any work place environment. Were Carlson's letters and kind commentary simply a means to continue her status as a successful and beloved anchor at Fox News without rocking the boat? We'll keep up with the latest as this story develops.
Fox News verified the letters, which were reportedly written in the aftermath of the meeting on September 16th in which Carlson claimed she was harassed.
Have a tip we should know? tips@mediaite.com