SNL Writer Deletes Tweet Saying Barron Trump Will be America's 'First Homeschool Shooter'
A writer for Saturday Night Live broke the usual rule about not targeting the children of politicians we disagree with.
For approximately three hours today, SNL "Weekend Update" writer Katie Rich had a tweet up saying that President Trump's 10 year old son, Barron, was going to grow up to become America's "first homeschool shooter."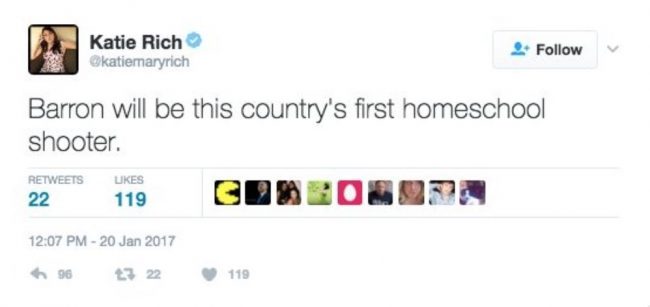 Rich eventually deleted her tweet, though not before Twitter users took notice:
The fact that writers and other people are willing to attack Barron Trump, a ten year-old, just shows how much we really needed change.

— Jack Murphy (@RealJack) January 20, 2017
Saturday Night Live writer @katiemaryrich attacks 10 year old kid, Barron Trump!
Left has no boundaries, no morals. #Inauguration pic.twitter.com/EqHueBq0ln

— Tennessee GOP (@TEN_GOP) January 20, 2017
SNL writer responsible for hate tweet against 10 year old Barron Trump.
This isn't funny. Nobody is laughing. https://t.co/mUDXoTGFFJ

— ???? (@technowizardry) January 20, 2017
SNL writer no doubt thinks bullying a 10-year-old CHILD is hilarious. This is truly sick. LEAVE BARRON ALONE! pic.twitter.com/Px7XnvMaZe

— Paula Bolyard (@pbolyard) January 20, 2017
Hate Trump all you want. Leave his kids – especially Barron alone. He's done nothing to you liberal scumbags ridiculing him. #SNL

— Carol Vicic (@CarolVicic) January 20, 2017
For the record, Barron Trump is not homeschooled, and there are plans for him and Melania Trump to live in the president's New York penthouse until he finishes the year at Columbia Grammar and Preparatory School.
[Image via screengrab]
— —
>> Follow Ken Meyer (@KenMeyer91) on Twitter
Have a tip we should know? tips@mediaite.com