So How Much Does It Cost to Review Police Body Cam Footage? NYPD: Uh, Let's Say $36,000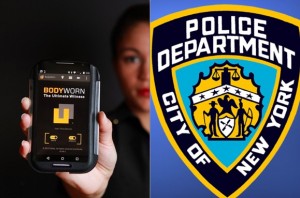 Anyone in the five boroughs of New York City with a Time Warner Cable box for television service (all of us) know that the default channel of those boxes is NY1. With its 24/7 coverage of all things NYC (and stud city-favorite anchor Pat Kiernan), the channel caters to the goings-on of the Big Apple, but now finds itself having to pay a pretty steep price tag on order from the New York City Police Department.
Under the New York state Freedom of Information Law, NY1 requested 190 hours of footage from police body cameras from the NYPD, and the department is now charging the Time Warner-owned network with its punishment payment for doing so: $36,000. Why so steep?
According to Ars Technica:
The NYPD said it would take a police officer 190 hours to review the footage, at $120 per hour, plus an additional 114 hours to "copy the footage in a manner that will redact the exempt portions." That brings to 304 hours the amount of time to comply with the network's request, the NYPD said.
Did you catch the little bit in there about how the hourly value for this job is $120? Well, the NYPD refuses to say why the rate for reviewing film is 14 times greater than the state minimum wage.
In a retaliatory measure, NY1 is now suing the NYPD, citing the outrageous price tag, saying in a statement that it runs, "…counter to both the public policy of openness underlying [Freedom of Information Law], as well as the purported transparency supposedly fostered by the BWC (body worn camera) program itself."
The debate that has raged not only out of New York but in communities across the country brings the issue of police body cameras front and center; with increasing concerns over police violence, particularly geared against minority communities, the call for police departments to install these cameras has grown, while critics continue to lobby on behalf of privacy rights even at the legislative level.
The NYPD came under extreme scrutiny following the death of Eric Garner in Staten Island in July 2014, after officers administered a chokehold to the 43-year-old moments before his death.
[h/t Ars Technica]
—
J.D. Durkin is the Senior Editor of Mediaite. You can follow him on Twitter @MediaiteJD.
Have a tip we should know? tips@mediaite.com