Yahoo CEO Cruelly Instills Fear in Her Workforce With Ominous Joke: 'No Layoffs…This Week'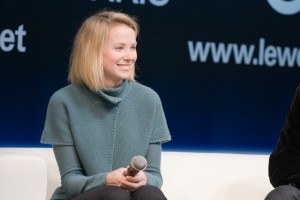 The backlash is mounting against Yahoo CEO Marissa Mayer for a horrible joke she attempted to make recently at a companywide meeting, and now many in her presumably deflated workforce fear for their jobs.
Mayer reportedly told the company that there will be "no layoffs… this week," and although her comments were intended to be humorous, many who call the tech giant home are left wondering about their employment status within the company. "This is the reason employee morale is so low," said one employee to the New York Post, who wished to remain anonymous out of fear of retribution.
According to reports, the comment in question from the CEO came at a January 8 meeting known as the "Friday FYI". Mayer has served as President and CEO of Yahoo since June 2012, though many have questioned the direction of the company under her leadership.
It's easy to look at the status at play in this situation and wonder just how out of touch with reality a sitting CEO is with the day-to-day concerns of her expansive workforce. Reports have long indicated that, in fact, Yahoo is looking to make cuts across the board; some figures indicate a 10% slash, while other estimates point upwards of a 20% or 25% cut.
For information on the ongoing Marissa Mayer saga, you can use this internet search engine that is wildly popular, universally beloved, and doesn't humorously threaten its faithful workers with the fear of unemployment.
[h/t/ The New York Post]
[image via Flickr]
—
J.D. Durkin is the Senior Editor of Mediaite. You can follow him on Twitter @MediaiteJD.
Have a tip we should know? tips@mediaite.com