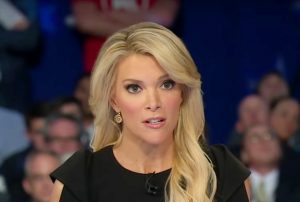 The cable news faithful know that Megyn Kelly's book Settle for More is dropping in a mere four days. Blogs have been on fire with speculation and few even got ahold of advanced copies. One of the more prominent rumors swirling around is that the book reveals Kelly was poisoned ahead of the primary debate during which she infamously asked Donald Trump about his treatment of women, setting off a months-long feud.
So, was the queen of cable news really poisoned? And why do people think she was?
The short answer is that it's very unclear whether she was poisoned or not and Kelly herself may not even know for sure. The chatter took off after a New York Times review of Settled for More said this:
On the day of the debate, Ms. Kelly writes, she woke up feeling great. Then an overzealous, suspiciously enthusiastic driver picked her up to take her to the convention center. He insisted on getting her coffee, though she'd repeatedly declined his offer. Once it was in her hand, she drank it. And within 15 minutes, she was violently ill, vomiting so uncontrollably that it was unclear if she'd be able to go on and help moderate that evening. It was so bad that she kept a trash pail beneath her desk throughout the debate, just in case.
The review also revealed that Kelly and Trump had argued prior to the debate over a segment on her show. During that argument, he threatened to "unleash" his Twitter account on her and allegedly called Fox executives to complain that he'd heard her first question for him was "very pointed." Obviously, the unspoken fear here is that Trump orchestrated her poisoning.
We reported on both the big reveal of the sudden sickness and the fact that Trump seemed to know about one of the questions in advance here.
Kelly has denied that she was poisoned…
Also for the record, I believe the reason I got sick the day of the first debate was I contracted a stomach virus, just as Rand Paul did.

— Megyn Kelly (@megynkelly) November 11, 2016
…and in her book she was very vague about the circumstances of her sickness, even mentioning that a bug had been going around.
Still, as New York Magazine points out, she did tell her lawyer and Roger Ailes about the incident, so she surely had her suspicions.
So, too, do her followers, especially since Omarosa Manigault mentioned that Trump is keeping a "list" of enemies in the conservative world.
@Evey3007 @megynkelly Maybe she doesn't want to be on Omarosa's list.

— Dee Star (@DeeStarInNJ) November 11, 2016
@megynkelly why tell the coffee story then?

— ry ? (@ryrywell) November 11, 2016
@DarakNy @megynkelly it's what she always does. Remember her 'standing up' to him in debate? Got her coveted interview.. slobbered over him.

— soupcity (@emmbee1002) November 11, 2016
[image: screengrab]
Have a tip we should know? [email protected]
---