Social Media is Viciously Ripping Delta Apart After Allegedly Removing Arabic-Speaking Passengers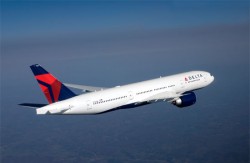 In the age of lightning-fact social media updates, it doesn't take long for something to go viral; and in the case of Adam Saleh — one of the two men who were allegedly removed from a Delta Air Lines flight this morning after speaking Arabic — his story is quickly gaining traction this morning.
Saleh, a well-known YouTube personality and vlogger, was on board a Delta flight with his pal when the duo was asked to leave, according to Saleh, because they spoke Arabic to one another as well as Saleh's mother.
We got kicked out of a @Delta airplane because I spoke Arabic to my mom on the phone and with my friend slim… WTFFFFFFFF please spread pic.twitter.com/P5dQCE0qos

— Adam Saleh (@omgAdamSaleh) December 21, 2016
Saleh's tweet has been retweeted nearly 95,000 times this morning alone, and it details the interactions with Delta staff who removed the two men. "It's Six White People Against Us Bearded Men!" he can be heard saying.
In the last few hours alone, the fierce social media backlash against the airline has been swift. Bassem Youssef was the first big name celebrity to weigh in on Twitter about the incident, calling on Delta directly; the Egyptian comedian called it simply "unacceptable."
There is no excuse for this behavior @Delta. Kicking out people for speaking a different language? Unacceptable https://t.co/zm32laqkTu

— Dr Bassem Youssef (@Byoussef) December 21, 2016
Youssef — widely touted as the "Jon Stewart of Egypt" for his biting comedic criticisms of his own government — was not alone. The hashtag #BoycottDelta has been quickly spreading in the past several hours.
Good morning to everyone except @delta

— Ira Madison III (@ira) December 21, 2016
I'm so in shock, can't believe we live in 2016 and this is what happens.. so sad #BoycottDelta #StopRacism @Delta

— Sara Karim (@sarakaarim) December 21, 2016
it's trending. @Delta you are done ! #BoycottDelta @omgAdamSaleh @SlimmySlim94 pic.twitter.com/8gUBzFwrKZ

— iclal (@eejlal96) December 21, 2016
Because if so @Delta I will be avoiding your company for all of my future flights. It always seems to be you kicking POC etc off flights…

— Dr Vicky Forster (@vickyyyf) December 21, 2016
At least we now learnt a lesson ! @omgAdamSaleh Thank you for letting us know to never take @delta #BoycottDelta

— Zayna (@RODAdoomy) December 21, 2016
Image the face of the @Delta Exec who googled #adamsaleh and realised they'd offloaded one of @YouTube's favourites. https://t.co/EJJzFBearE

— Adam Walker (@AdamWalkerGB) December 21, 2016
.@Delta I promise to never use your airline again, and I sincerely hope none of my 1.7 billion brothers and sisters do either. #boycottDelta

— Madah J (@Madah_J) December 21, 2016
@Delta so y'all are just not going address a passenger having his civil rights violated on one of your flights, huh?

— Tall Black Guy (@thewallychamp11) December 21, 2016
#boycottdelta @Delta sitting next to racist white people makes me feel uncomfortable…they might shoot up the plane or something ?❌?

— cam (@hendrought) December 21, 2016
@delta could you a publish list of languages ppl are allowed to speak and on which routes? Asking for a few billion friends. #boycottdelta

— joseph m. azam (@JosephAzam) December 21, 2016
Shame on you @Delta! Shame on everyone who didn't object. Bravo to the few who did. USA in 2016. https://t.co/5pFk4zq4Nn

— Mona Eltahawy (@monaeltahawy) December 21, 2016
Hey @Delta , if I spoke Spanish on your plane would that mean I'm part of the drug cartel? #boycottdelta

— ジャリン (@welcometojaapan) December 21, 2016
Don't hire racist staff @Delta We have enough of this crap going on.

— Harris J (@HarrisJOfficial) December 21, 2016
Change ur name to "only White People Can board on This plane delta" @Delta #boycottdelta

— Esra hehe (@EsraaKxx) December 21, 2016
I didn't know you guys hire racist people @delta , kicking off the plane for speaking Arabic! DISGUSTING!! #boycottdelta

— Slim Albaher (@SlimmySlim94) December 21, 2016
Saleh has continued posting updates to his Twitter account in the aftermath of the incident.
We are still stuck at the airport and Delta has not given us any info. They keep telling us to wait. Please spread the word #BoycottDelta

— Adam Saleh (@omgAdamSaleh) December 21, 2016
UPDATE: Delta just brought the police to speak to us.

— Adam Saleh (@omgAdamSaleh) December 21, 2016
UPDATE: We're being security checked AGAIN right now.

— Adam Saleh (@omgAdamSaleh) December 21, 2016
UPDATE 9:13 a.m. EST: In the spirit of transparency, Mediaite has learned further that Saleh has been the creator of several high-profile and popular "pranks" often times involving racial profiling. In 2014 he admitted that a viral video of his called "RACIAL PROFILING EXPERIMENT!" was a fraud after being investigated by The Smoking Gun, which called the effort at the time, "a sham, a staged production aimed to go viral and pile up views."
We have no reason to believe that any part of the Delta incident is fraudulent in any way at this time or part of a manipulative prank, however. We will continue with updates as we learn of them.
UPDATE 9:24 a.m. EST: Delta has issued the following statement: "Two customers were removed from this flight and later rebooked after a disturbance in the cabin resulted in more than 20 customers expressing their discomfort. We're conducting a full review to understand what transpired. We are taking allegations of discrimination very seriously; our culture requires treating others with respect."
UPDATE 7:11 p.m. EST: Delta has issued a follow-up statement obtained by Mediaite's sister site LawNewz finding that Saleh was being disruptive:
Based on the information collected to date, it appears the customers who were removed sought to disrupt the cabin with provocative behavior, including shouting. This type of conduct is not welcome on any Delta flight.
UPDATE 9:37 p.m. EST: Saleh responded in a tweet tonight:
Thank you for all your support pic.twitter.com/ukQ4EGVQ6r

— Adam Saleh (@omgAdamSaleh) December 22, 2016
Have a tip we should know? tips@mediaite.com