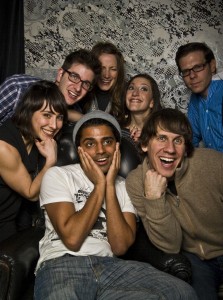 This week is Social Media Week in New York, Berlin, London, San Francisco, Toronto and São Paulo, and in NYC, the events have been coming thick and fast. As someone who's co-organized three of them (on fashion, sports and non-profits) with a side of speaking and helping, I can attest to that. One of the great things about a week of events like this is who it brings together (sometimes unexpectedly) — and what that togetherness can be used for.
Specifically I am talking about charity, as I often do — and Tuesday night at the Hotel Rivington there was a perfect storm of tech savvy, group synergy and do-gooderism as the self-described "Digtial Divas" made use of their captive audience for the benefit of Doctors Without Borders.
The conceit was pretty simple — Social Diva founder Peg Samuel and KlickableTV's Emily Gannett smartly collected a bunch of women active across the new media scene to co-host a party celebrating the more fabulous, as well as forward-thinking, nature of the scene. (The new media kids really like to go out and do it up, as is evidenced by rampant FourSquare check-ins and ample photo evidence)(also, the geeks are officially getting better looking. I'm just saying). As one of the "divas" in question, I can say that, other than falling short of my demands for an all-white suite with Cristal and a bowl of hand-separated color-coded M&Ms, the evening was a huge success: Packed space, great people, good networking. But it also raised money, in a really cool new way, with amazing potential: Via a new mobile, wireless payment device, the Square.
Per CNET's Caroline McCarthy :
As the event grew closer, we decided that we wanted some kind of innovative way for guests to donate to support Doctors Without Borders' relief efforts in Haiti. So after some brainstorming we thought about using Square, the new mobile-payment company co-founded by Twitter Chairman Jack Dorsey. The event's main co-hosts got in touch with one of Square's executives, who generously shipped us two of the little gadgets–which aren't on the market yet — on very short notice.

And I got to field-test it! Along with Brooke Moreland of fashion site Fashism, I was equipped with a Square and some alpha software and given the mission of convincing party guests that yes, a major credit card and an odd little iPhone add-on could add up to more resources for a good cause.
As McCarthy reported, the results were a little mixed — some attendees who were not as tech-savvy and Twitter-addicted had never heard of Square, and viewed the mechanism with skepticism (as opposed to those of us who would have paid for anything just to test it out) (probably that was the same reaction some people had to swiping cards in cabs at first, on both ends of the spectrum). Around $350 was raised — a modest amount as fundraisers go, but a great "bonus" amount just for walking around and asking for money (I tried it at a similarly-attended event last June and raised $107 just in cash, so I think adding a bit of hardware helps). On a broader level, though, this makes me think of how easy the text-message fundraising for Haiti has been, and how likely people are to donate where the means of donation is made easy and not very burdensome. Micro-giving has exploded thanks to the Internet, and finding new and inventive ways of separating people from small sums of money they won't miss — but will make a difference for needy causes in the aggregate — represents an area of significant fundraising possibility going forward.
Read more of Caroline's first-hand observations about Square-giving here; it occurs me that if we'd charged a few bucks per sitting for photographer Mo Pitz's photobooth, we also could have collected even more. A few of her excellent and super-fun snapshots are below; you'll see what I mean.
Either way, thanks to fellow Divas for making this one happen — it's a smart model for spurring micro-giving going forward, and a great excuse for a party.
Mo Pitz: Digital Divas Photobooth (Full Gallery) [Flickr]
Have a tip we should know? tips@mediaite.com