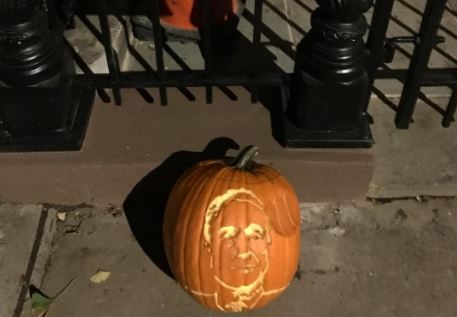 A Russia investigation-themed Halloween pumpkin was spotted outside the home of Paul Manafort in Brooklyn, New York.
The culprit behind the pumpkin depicting special counsel Robert Mueller is Amy Finkel, a Brooklynite who joked Manafort's New York property is "the house that helped Mueller bring him down" — which is a reference to the list of proprieties noted in the former Trump campaign chairman's indictment.
"I carved a Robert Mueller pumpkin this Halloween. I was going to throw it out downstairs last night, but then I had a better idea. It's now resting peacefully outside Paul Manafort's Brooklyn brownstone—the house that helped Mueller bring him down. Like Manafort, my pumpkin is now rotten," said Finkel in an Instagram post.
Manafort was charged earlier this week with his partner in crime Rick Gates for conspiring against the US, money laundering, and false statements. The two former Trump campaign staffers are currently under house arrest with bails set at $10 million for Manafort and $5 million for Gates.
[featured image via screengrab]
Follow Caleb Ecarma on Twitter. 
Have a tip we should know? tips@mediaite.com