Sonia Sotomayor, John Roberts Trade Subtle Digs in Affirmative Action Opinions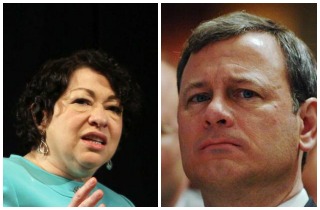 The Supreme Court's 6-2 decision on Tuesday allowing a public initiative in Michigan banning racial preferences in public colleges' admissions processes appears to have exposed significant philosophical divisions among the Court's justices. First flagged by Talking Points Memo's Sahil Kapur, Justice Sonia Sotomayor and Chief Justice John Roberts appeared to trade subtle jabs at one another over the decision and the issue of race in America.

"The way to stop discrimination on the basis of race is to stop discriminating on the basis of race," Roberts famously wrote in a 2007 opinion.
This oft-quoted line by Roberts seems to have been referenced by Sotomayor in her dissenting opinion. "The way to stop discrimination on the basis of race," Sotomayor wrote, "is to speak openly and candidly on the subject of race, and to apply the Constitution with eyes open to the unfortunate effects of centuries of racial discrimination."
RELATED: SCOTUS Upholds Michigan's Ban on Affirmative Action
She later wrote that such a laissez faire view of how government should respond to issues involving racial discrimination was "out of touch with reality."
Roberts appeared to be aware that he was the subject of Sotomayor's subtle criticism and, in a concurring opinion along with Justice Anthony Kennedy's majority opinion, addressed her criticism.
"But it is not "out of touch with reality" to conclude that racial preferences may themselves have the debilitating effect of reinforcing precisely that doubt, and—if so—that the preferences do more harm than good," Roberts wrote. "To disagree with the dissent's views on the costs and benefits of racial preferences is not to "wish away, rather than confront" racial inequality. People can disagree in good faith on this issue, but it similarly does more harm than good to question the openness and candor of those on either side of the debate."
[photo via FayesVision/WENN.com/Jonathan Ernst / Reuters]
 — — 
>> Follow Noah Rothman (@NoahCRothman) on Twitter
Have a tip we should know? tips@mediaite.com