Sony Lets Theaters Decide Whether to Screen The Interview in Light of Terror Threats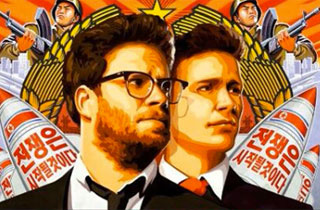 The Wall Street Journal reports that in an unusual move, Sony has freed cinema chains from any contractual obligations to screen The Interview, after hackers threatened to attack any theater screening the controversial film.
The hackers, calling themselves the Guardians of Peace, recently released a devastating cache of hacked emails from Sony employees, claiming retaliation for the studio's decision to release the Seth Rogen-James Franco buddy comedy about an attempt to assassinate North Korean dictator Kim Jong-Un. In their latest leak, the hackers also hinted at a possible 9/11-style attack on movie theaters screening the film: "We recommend you to keep yourself distant from the places at that time. (If your house is nearby, you'd better leave.)"
Rogen and Franco canceled their upcoming promotional appearances as a result.
As the Journal notes, Sony's decision is an "unprecedented" move, one that could potentially cost them millions of dollars:
Such moves—only nine days before a movie opens—are unprecedented in recent Hollywood history and illustrates the stakes in the continuing attacks on the Sony Corp. unit. Typically, studios and major theater chains work out plans on where and when a film will play months in advance and those plans can't be changed once a studio is in the midst of a big marketing campaign.

However, after the new threat surfaced Tuesday, Sony was under pressure from theaters particularly for cinemas located in malls and other crowded areas, the person said.
So far, only Carmike Cinemas Inc. has taken them up on the offer, while other theaters are taking extra security measures. "Every theater owner out there has a heightened sense of concern," Tom Stephenson, chief executive of Look Cinemas, told the Journal. "We'll do everything we can to make our theater and network more secure."
The Department of Homeland Security released a statement saying they were aware of the threat, but "at this time there is no credible intelligence to indicate an active plot against movie theaters within the United States."
Update- 1:36 pm EST: Bow Tie Cinemas will not be showing the movie either, the theater chain announced in a statement today.
[WSJ]
[Image via Seth Rogen/Twitter]
—
>> Follow Tina Nguyen (@Tina_Nguyen) on Twitter
Have a tip we should know? tips@mediaite.com