Sound the Alarm: Sarah Palin and Bill Nye Will Appear On a Panel About Climate Change (UPDATED)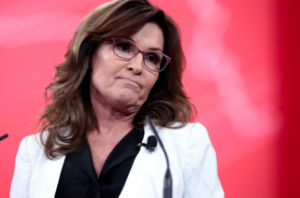 UPDATE –– 7:14 pm EST: Variety has updated its report to note that the panel will feature "clips" of Nye, and he will not be on the panel with Palin. Darn.
— —
Have you ever wanted to see Sarah Palin and Bill Nye talk about climate change? Together? In the same place? On a panel where their sole job for the evening is to present two wildly contrasting viewpoints?
THIS is where you buy the ticket because of course you have. Mark your calendar for May 2, because this is all real. It's all happening.
Palin — who has long been known for her rambling, "disjointed" speeches and lack of fact-based assertions — has signed on to participate in a panel hosted after the nation-wide screening of Climate Hustle in hundreds of theaters. The documentary is produced by Committee for a Constructive Tomorrow and Marc Morano's ClimateDepot.com and aims to deconstruct theories about global warming.
Here's Palin on the documentary:
I'm very passionate about this issue. We've been told by fear-mongers that global warming is due to man's activities and this presents strong arguments against that in a very relatable way.
Also passionate about the topic is Nye, who is described by the CFACT website as "Warmist Bill Nye." The scientist has frequently spoken out against climate change and his appearance on the panel is almost certainly going to be something special, considering his history of articulate deconstructions and interrogations of arguments.
Nye has debated conservative climate change deniers in the past, as well.

h/t Variety
[image via Gage Skidmore]
For more from Lindsey, follow her on Twitter.
This is an opinion piece. The views expressed in this article are those of just the author.