Southern Avenger Defender Rand Paul Takes Lead In Iowa Republican Primary Poll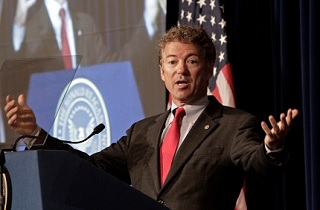 Even as Sen. Rand Paul (R-KY) takes criticism from overly-sensitive fans of The Great Emancipator, his fortunes with Republican primary voters continue to improve. In Democratic-leaning (but dead-on accurate) Public Policy Polling's April poll, the Kentucky senator leapfrogged to second place among Republican presidential hopefuls, nationally. In PPP's most recent poll of first-in-the-nation Iowa, the Southern Avenger's biggest defender has taken the lead with registered Republicans in the state, but still gets clobbered in head-to-head polling with former Secretary of State Hillary Clinton.
From PPP:
PPP's newest look at the Republican race for 2016 in Iowa finds a new leader. Rand Paul is at 18% to 16% for Chris Christie, 15% for Paul Ryan, 14% for Jeb Bush, 11% for Marco Rubio, 10% for Ted Cruz, 6% for Rick Santorum, 2% for Bobby Jindal, and 1% for Susana Martinez. Paul also led the last time we polled New Hampshire with 28% to 25% for Rubio and 14% for Christie.

…When it comes to the general election Clinton is a clear favorite against all comers. Chris Christie comes closest to her but still trails by 7 points at 43/36. After that it's Paul Ryan trailing by 9 at 49/40, Rand Paul down 11 at 48/37, Marco Rubio down 12 at 47/35, and Jeb Bush down 14 at 50/36.
While Republican voters still prefer Rand Paul to more viable general election candidate Chris Christie, the general electorate seems to prefer everyone but Rand Paul. In a June Gallup poll, Paul had the worst favorability rating of the five Republicans polled.
This latest PPP poll was taken between July 5 and July 7, before the Southern Avenger story hit. If you missed that, Paul's new media director, Jack Hunter, was raked over the coals by a Washington Free Beacon exposé detailing the exploits of Hunter's Confederate mask-wearing, Lincoln-hating, John Wilkes Booth-toasting Southern Avenger, and of views which he publicly defended until very recently. Sen. Paul decided to stand by Hunter, a decision which could affect his position in Republican primary polls. My money is on it helping him.
Have a tip we should know? [email protected]