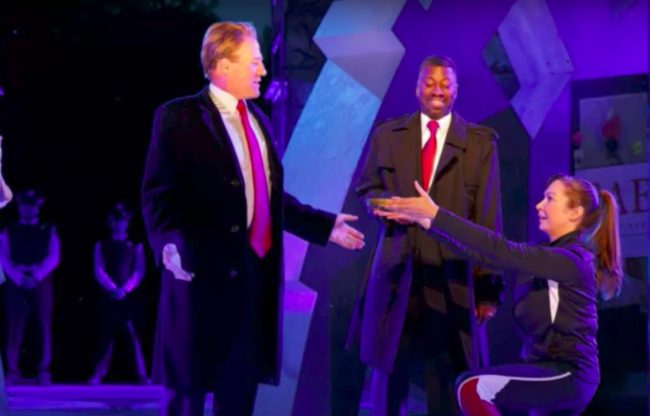 Anti-Trump activists faced another blow this week after news emerged that two major sponsors would drop their funding for a rendition of Shakespeare's Julius Caesar now playing in New York City's famed "Shakespeare in the Park"
On Sunday evening, both Bank of America and Delta Airlines announced in statements via Twitter that they would withdraw their sponsorship from the controversial reimagining, which features a none-too-subtle reference to President Donald Trump as Caesar and includes the Roman despot being graphically murdered by suit and tie clad Senators.
… You see what they did there?
The story came to wide public attention after a Mediaite feature last week.
"The Public Theater chose to present 'Julius Caesar' in a way that was intended to provoke and offend," said Bank of America. "Had this intention been made known to us, we would have decided not to sponsor it. We are withdrawing our funding for this production."
We are withdrawing our funding pic.twitter.com/MlaONF82FN

— Bank of America News (@BofA_News) June 12, 2017
Delta went further, elaborating their stance in a four part tweet.
No matter what your political stance may be, the graphic staging of Julius Caesar at this summer's Free Shakespeare in the… 1/4

— Delta (@Delta) June 12, 2017
…Shakespeare in the Park does not reflect Delta Air Lines' values. Their artistic and creative direction crossed… 2/4

— Delta (@Delta) June 12, 2017
…the line on the standards of good taste. We have notified them of our decision to end our sponsorship as the… 3/4

— Delta (@Delta) June 12, 2017
…official airline of The Public Theater effective immediately. *HAS 4/4

— Delta (@Delta) June 12, 2017
Where it once might have slid by in a pre-social media, hyper-partisan era, the play came at a terrible moment, roughly aligning with implosion of comedian Kathy Griffin for holding an ISIS-style mock up of President Trump's severed head. While she later clarified it's intent was to make a statement, it was not enough to save her CNN New Year special — or anything else.
With sponsors dropping, the fate of Caesar now too looks very uncertain.
[image via screengrab]
Have a tip we should know? [email protected]