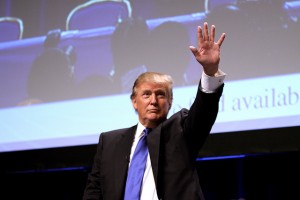 Among the many promotional quotes Donald Trump provided for his 1987 co-authored book, Trump: The Art of the Deal, the one that sticks out the most has to do with planning for the worst. The real estate mogul notes that he "always go into a deal anticipating the worst." His reasoning is, "if you can live with the worst, the good will always take care of itself."
Too bad he didn't follow his own advice before he decided to attack Arizona Sen. John McCain's status as a military veteran and former prisoner during the Vietnam War. It didn't seem to help in his followup press release and Twitter barrage, neither of which included the apology so many have demanded.
Upon closer inspection, however, Trump isn't just ignoring his own advice — he's doing the exact opposite. Instead of "anticipating the worst" in everything he's done or said on the campaign trail, Trump as "assumed the best." That is, the 2016 GOP presidential hopeful has operated in a manner that believes itself justified by his generally high poll numbers and subsequently assumed massive following. And the best evidence for this attitude (aside from the obvious) frequently occurs in his press releases.
Consider the official statement Trump's campaign released soon after his anti-McCain comments exploded. Most of the garbled word salad repeats his vocal dislike for McCain, while also trying to turn the tables so that he appears pro-military. Yet at the very end of the statement sits this gem:
"Note, Mr. Trump left to a long lasting standing ovation, which will be by far the biggest ovation of the weekend, and much congratulatory praise."
Just in case the point wasn't clear enough, Trump made sure to include the "standing ovation" talking point in a tweet:
Just left Family Leadership Summit in Iowa, got a standing ovation from many wonderful people. I will be back soon.

— Donald J. Trump (@realDonaldTrump) July 18, 2015
The latent argument here is, despite what Trump said, and despite everyone's reaction to it, the crowds in attendance at the Family Leadership Summit applauded him. Not just that, but they gave him a "standing ovation," one that was "by far the biggest ovation of the weekend." Whether or not the applause was as grandiose as this lengthy sentence suggests is irrelevant, of course, as the release simply wants to connect it to Trump's much-maligned comments. In other words, Trump's campaign wants to suggest to the media, "You don't like what I have to say? So what! Everyone here seems to be okay with it."
To say that "The Donald" is a bit of a grandstanding circus master is to say nothing new. Anyone who follows @realDonaldTrump knows this all too well. But his press releases' penchant for lauding his many standing ovations bears acknowledgement. If for anything else, because they're just as entertaining (and full of sh*t).
Like when he supposedly paid actors to help fill out the ranks of sign-carrying, t-shirt-wearing supporters at his candidacy announcement in June. When the Hollywood Reporter broke the story and reached out to Trump's campaign for comment, the latter included the candidate's talking point in yet another ridiculously flamboyant statement:
"Mr. Trump draws record crowds at almost every venue at which he is a featured speaker. The crowds are large, often record-setting and enthusiastic, often with standing ovations. Mr. Trump's message is 'make America great again.'"
Or when Trump, shortly before his official announcement, addressed a "record crowd of 700" of the North Carolina GOP State Convention dinner in early June. According to that official press release, yet another "standing ovation" to beat all others was had:
"The crowd bid-farewell to Mr. Trump with a standing ovation after he exclaimed, 'The American Dream is dead, but if I run, and if I win, we will bring it back stronger, bigger, and better than ever before!'"
Again, per his usual practice, Trump made sure to include the phrase in a subsequent tweet:
Just received a standing ovation at #NCGOPCon when I said, "We need to bring the American Dream back better and stronger than ever before!"

— Donald J. Trump (@realDonaldTrump) June 7, 2015
So what's the take away, here? Other than yet another hot take on the Donald's all-too-common practice of huffing and puffing his own chest, what's the point of all this? It's quite simple, frankly.
Considering that much of Trump's campaign thus far has been one exaggerated attempt after another to ridicule any and all comers in an attempt to make himself look like a truth-teller, a no-nonsense type who won't fool around with the trust of the American people, his campaign has been doing exactly that since before it even started. If anything, his grand standing is much more amplified, and therefore louder and annoyingly worse.
No wonder Huffington Post relegated its coverage of Trump's campaign to the Entertainment section.
[Image via Gage Skidmore]
— —
>> Follow Andrew Husband (@AndrewHusband) on Twitter
Have a tip we should know? tips@mediaite.com