Star Of Obama Super PAC Ad Calls President 'A Jerk, A Pantywaist, A Lightweight' And 'A Blowhard'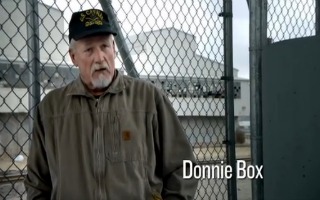 The subject of a pro-Barack Obama ad by the Super PAC Priorities USA has come out to clarify his political position – and it is not one supportive of President Obama. Donnie Box, a former GS Technologies steelworker told the internet publication In These Times that he does not intend to vote for Obama and had some rather unflattering things to say about the President.

RELATED: Pro-Obama SuperPAC Renews Attacks On Mitt Romney's Bain Capital Record
In the Priorities ad, Box stands in front of the shuttered GS Technologies company and talks about how Mitt Romney and Bain Capital "shut down entire livelihoods." Box sounds a bitter note when he describes how Romney and the private equity firm turned GS Technologies "into a junk yard."
But Box's justifiable frustration does not translate to his political outlook. A "lifelong Democrat," according to his profile in the article on In These Times, Box says that he "could really care less about Obama."
"I think Obama is a jerk, a pantywaist, a lightweight, a blowhard. He hasn't done a goddamn thing that he said he would do. When he had a Democratic Senate and Democratic Congress, he didn't do a damn thing. He doesn't have the guts to say what's on his mind."
While Box made it clear that he had a low impression of President Obama, he is not particularly supportive of Romney either.
"We didn't know who the hell Mitt Romney was when all that stuff started," says former GS Technologies steelworker Donnie Box of Kansas City, Missouri. "It wasn't until later we found out who Romney was. We just knew he was just another guy with money. It wasn't until his boys came and started gutting the place that we found out he was an asshole."
For Box, the 2012 election will be a choice between the lesser of two evils. Box made it clear, however, that he does not intend to cast his vote in November for President Obama.
Watch the original pro-Obama Super PAC ad "Donnie" below:
> >Follow Noah Rothman (@Noah_C_Rothman) on Twitter
Have a tip we should know? tips@mediaite.com