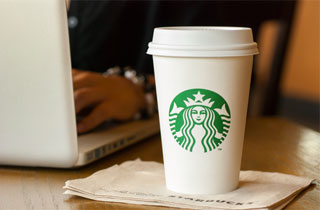 Despite Starbucks's celebrated announcement earlier this week that they would pay for their employees' tuition and bachelor's degrees, representatives from Arizona State University told a different story: Namely, that Starbucks itself is not actually contributing any money to their employees' education. Instead, as the AP reported, ASU is offering Starbucks employees a reduced tuition, and the student is expected, in some cases to pay the rest with a mix of federal loans and/or out of pocket.
In short, Starbucks is not actually paying — as in "here is money out of our own pocket, now go to college"-type paying — for its employees to go to college. But they are. But not really. Oh, this is confusing.
The actual setup is a little more complicated, according to ASU and Starbucks spokespeople, and involves more "tuition reimbursement" than "tuition paying":
Starbucks said Thursday that the scholarship is a reduced tuition rate. It estimates the reduction in tuition would average about $6,500 over two years to cover tuition of $30,000.

To cover the remainder in the freshman and sophomore years, workers would apply for federal aid, such as Pell grants, and pay for the rest either out of pocket or by taking out loans. Starbucks would bear no costs in those years.
For the junior and senior years, Starbucks would reimburse workers for whatever tuition they had to cover either upfront or through loans, once they completed 21 credits.

Matt Ryan, chief strategy officer for Starbucks, said on Thursday that for a worker's junior and senior years, the company could potentially cover up to 58 percent of the tuition, in cases where workers didn't qualify for grants.

If workers did qualify for grants, he said Starbucks could be responsible for very little, if anything. He noted that workers financial situations can vary greatly.
While it's still a generous program, especially compared with many companies who pay their employes no tuition (or just a living wage), it still brings up complicated questions, such as whether employees can qualify for federal aid when they're also required to work at Starbucks during their classes, or whether online education will be the best fit for employees who want to take advantage of the problem, or even whether it's unfair that freshmen and sophomores can't take full advantage of the program.
[AP via Newsmax]
[Image via Sean Wandzilak / Shutterstock.com]
— —
>> Follow Tina Nguyen (@Tina_Nguyen) on Twitter
Have a tip we should know? [email protected]