State Officials Draw Outrage After Calling Michelle Obama an 'Ape in Heels'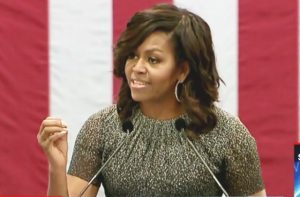 Two local officials in West Virginia have drawn outrage in connection with a Facebook post referring to First Lady Michelle Obama as an "Ape in heels."
Pamela Ramsey Taylor, the director of a non-profit group in Clay County, put up a peculiar message on Facebook after Donald Trump claimed victory last week on Election Day. While the post has been deleted, screenshots have been captured by WSAZ, and they show that Taylor had an…interesting comment on why she's glad Melania Trump will become the First Lady.
"It will be so refreshing to have a classy, beautiful, dignified First Lady back in the White House. I'm tired of seeing a Ape in heels."
Clay mayor Beverly Whaling responded to Taylor's post with "just made my day Pam." The post was spread far and wide by the time it was deleted, and more than 100,000 people have signed a petition demanding that the two officials resign from their positions.
In a statement to the Washington Post, Mayor Whaling apologised for the comment "getting out of hand."
"I was referring to my day being made for change in the White House! I am truly sorry for any hard feeling this may have caused! Those who know me know that I'm not of any way racist!"
Taylor was removed from her position on Monday, and she told local media that she put up an apology before taking her Facebook page down. Taylor said her original post could be "interpreted as racist, but in no way was intended to be", and that it was meant to be a comment about physical attractiveness.
Taylor did say, however, that the backlash she received has turned the situation into a "hate crime against me," and that she will file lawsuits against people who have slandered her over her post.
Watch above, via WSAZ.
[Image via screengrab]
— —
>> Follow Ken Meyer (@KenMeyer91) on Twitter
Podcast: Play in new window | Download
Have a tip we should know? tips@mediaite.com