Steph Curry's Wife — and Everyone Else — Thought the NBA 'Rigged' Last Night's Game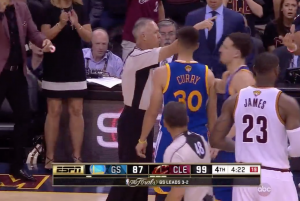 On paper, game 6 of the NBA Finals Thursday night was one for the ages. Led by the heroics of LeBron James' 41 points and a dazzling performance from the Cleveland Cavaliers, the Golden State Warriors were denied a Championship for the second straight game.
And that's just the problem. The game was almost too good, as if it was… rigged.
That was the heat-of-the-moment accusation late last night from Ayesha Curry, the wife of Warriors stud Steph Curry, moments after watching her husband get ejected in the closing minutes of play after receiving a technical foul. The quickly-deleted Tweet read: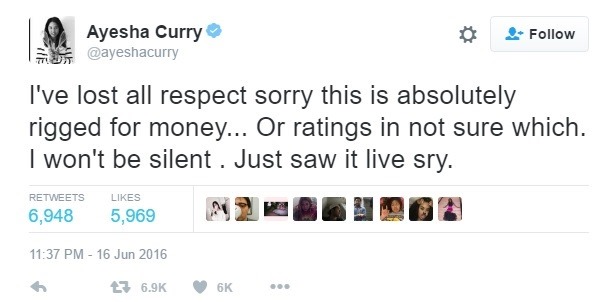 The fourth quarter of the Game 6 sputtered on in bizarre fashion, that's to be sure. While the Cavs were mounting a strong effort en route to their 115-101 win, Curry — the most important piece of the Warriors incredible season — remarkably fouled out. As head coach Steve Kerr fired off after the loss, "He gets six fouls on him; three were absolutely ridiculous."
Curry's technical foul came when he threw his mouthguard after fouling out with only minutes remaining. It's strange for a player of Curry's skill set to find himself fouling out in the closing minutes of a game, considering he is a behind-the-arc soft touch shooter, compared to the aggressive to-the-hole style of LeBron James. As a result of how things transpired Thursday night, it is conspiracy theorists who are now calling foul.
Any perceived "rigging" effort on the part of the league would be obviously beneficial. There is no more exciting prospect — for ratings, money, popularity, branding — than a Game 7. It gives James the shot to finally bring a title to his hometown Cleveland for the first time in his career (his only ticker tape parades were in Miami) and sets the stage for unparalleled dramatics down the stretch back at the ORACLE Arena in Oakland, a place where Golden State has been nearly flawless all season long.
And Ayesha Curry is not the only person who thought Game 6 was pulled in favor of Cleveland.
@jemelehill @michaelsmith @hisherspodcast that last call was BS! NBA got what they wanted, a game 7. ???#conspiracy

— Shanelle Thomas (@ShanelleJ1209) June 17, 2016
@ahr336 it's okay friend you know the NBA just did this so they can go to game 7 #conspiracy #moneyintheypockets

— Obed Flores (@ObedKIDS) June 17, 2016
@thekolsky it's the NBA they wanted a game 7. #conspiracy #illuminati #thisisajoke

— N7 Uncle N (@N7MetalGearIan) June 17, 2016
There's been at least 2 bogus fouls on Steph tonight, especially foul # 6. I'm kinda starting to believe the game 7 conspiracy hype.

— Keith Akins (@keith_akins) June 17, 2016
Suspect 5th foul call and a no call on the 3 attempt? Just saying. Game 7 conspiracy theory. #GSWvCLE #NBAFinals

— Anthony Baccari (@tonymoper) June 17, 2016
Then think about the money and ratings game 6 & 7 brings. #rigged

— SLIME (@BramanGarron) June 17, 2016
The officiating in Game 6 was awful and just affirms that the NBA is rigged.

— Paul Trinh (@paultrinh) June 17, 2016
Ayesha Curry returned to Twitter after her controversial Tweet to further clear the air and explain her motives as the end of the game was winding down:
tweeted in the heat of the moment because the call was uncalled for.

— Ayesha Curry (@ayeshacurry) June 17, 2016
Police racial profiled my father and told him to remove credentials and tried to arrest him. It's been a long night for me. I apologize:

— Ayesha Curry (@ayeshacurry) June 17, 2016
I'm okay that we lost… I just can't take people coming at my family for absolutely no reason. Something I don't understand or stand for.

— Ayesha Curry (@ayeshacurry) June 17, 2016
So those of you who watched the game… what do you think? Some of the calls on Curry in the opinion of this writer were sufficiently suspect, and we certainly know the NBA has a well-documented history of rigging the officiating process to encourage particular outcomes. Either way, the stage is set for what will be a perfect Father's Day branding opportunity for the league, as the Cavs and Warriors square off at 8 p.m. ET on Sunday for the winner-take-all championship game.
—
J.D. Durkin (@jiveDurkey) is an editorial producer and columnist at Mediaite.
[image via screengrab]
This is an opinion piece. The views expressed in this article are those of just the author.