Stephen Colbert Gives Northwestern Commencement Speech, Shares Tale Of Not Graduating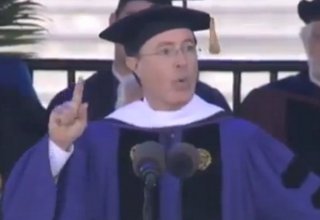 Stephen Colbert, a class of 1986 Northwestern alum, returned to the school today to deliver the commencement address to this year's graduating class. As one would expect, Colbert mixed jokes about the terrible job market and his own college experience with earnest advice about following dreams and helping others. As one might not expect, he also talked about brothels.
Since Colbert did, after all, attend Northwestern, the speech contained some insider Northwestern references – drunken campus events showcasing "humanity at its worst" and the apparent prevalence of brothels Evanston, Ill., where Northwestern is located. (That one got some big applause.) But there were also more universal themes, like bleak job prospects ("In this economy, running a brothel may be the most reliable work out there"), and graduating late…which Colbert actually had experience doing. Apparently, receiving a yellow piece of paper with "See me" scrawled on it is no match for a diploma.
Although Colbert gave the speech as himself, he occasionally sounded like his TV character, though the Colbert of The Colbert Report would never refer to himself as humbly as "basic cable's second-most-popular fake newsman." And he definitely wouldn't urge you to remember that "you cannot win your life," and that "if you love only yourself, you will serve only yourself, and you will have only yourself." An inspiring effort from Colbert, but it was undeniably depressing to still hear commencement addresses talking about the awful economy. Video below.
Have a tip we should know? tips@mediaite.com