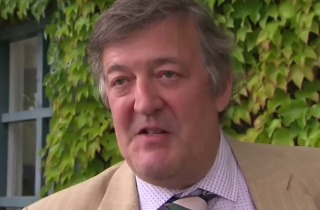 British comedian and actor Stephen Fry was hounded off Twitter Sunday after he made a joke during the BAFTA award ceremony that critics considered sexist.
After costume designer Jenny Beavan accepted an award for her work in Mad Max:Fury Road, Fry took to the stage and joked about her outfit choice. "Only one of the great cinematic costume designers would come to an award ceremony dressed as a bag lady," he said to laughter ("bag lady" is British slang for a homeless woman).
Fry was immediately accused of sexism by an Internet lynch mob concerned online denizens.
Uncool of Stephen Fry to say bafta winning costume designer dressed like a 'bag lady'. I was thinking it was cool she wore what she wanted.

— Jo Elvin (@jo_elvin) February 14, 2016
Stephen Fry's "dressed as a bag lady" joke about the winner of costume design was horrid. True colours, there. #BAFTA

— Beth Neil (@bethneil) February 14, 2016
Stephen Fry, a woman can come to the Baftas dressed as she wants. #baglady

— Jessica Angharad Lee (@jessangharadlee) February 14, 2016
Stephen Fry giving fashion tips to the costume designer of Mad Max 4 – ageist and sexist @BAFTA

— phildenning (@phildenning) February 14, 2016
Stephen Fry is hardly in vogue – totally sexist remark #EEBAFTAs

— Nona Buckley-Irvine (@nonajasmine) February 14, 2016
At first Fry fought back, tweeting that he and Beavan were friends and tweeting out a picture of them together.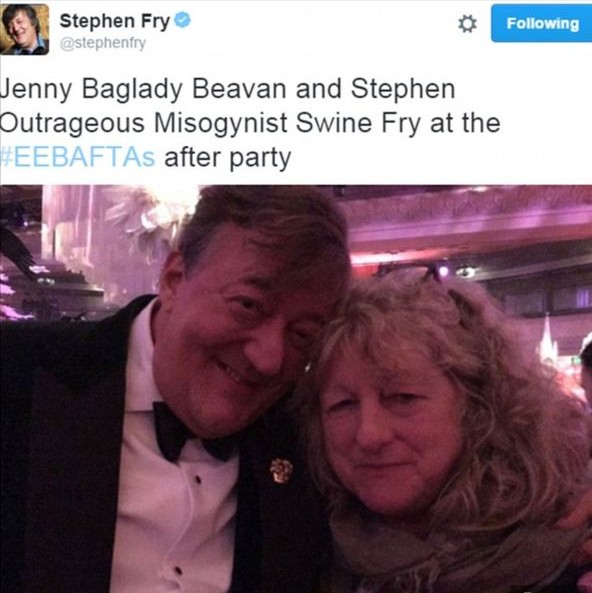 "Will all you sanctimonious fuckers fuck the fuck off," he said at one point. "Jenny Beavan is a friend and joshing is legitimate. Christ, I want to leave the planet." But in the end, Fry simply suspended his Twitter account.
Watch above, via Daily Mail.
[Image via screengrab]
——
>>Follow Alex Griswold (@HashtagGriswold) on Twitter
Have a tip we should know? tips@mediaite.com