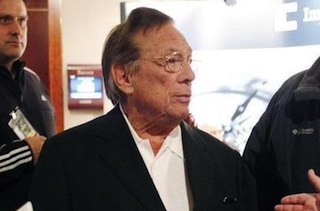 Donald Sterling will fight the NBA's decision to oust him, according to a letter [PDF] his attorneys sent to the league. The letter argues that the NBA's use of the controversial recording is a "clear and blatant violation of Mr. Sterling's California constitutional rights." And Sterling claims that he is receiving offers of up to $2.5 billion dollars for the L.A. Clippers.
And here's how the letter actually starts: "On the basis of remarks made in a living room during a 'lovers' quarrel,' which were illegally recorded and then disclosed months later in retaliation for a lawsuit by Mr. Sterling's wife, the NBA seeks to forcibly strip Mr. Sterling and his wife of their ownership interest in the Los Angeles Clippers."
Sterling's attorneys denounce the "draconian penalties imposed on Mr. Sterling" and express extreme confidence they will bring a swift end to these "sham proceedings." They repeatedly argue that the audio of his now-controversial racist rant should not be used as evidence because it was illegally recorded.
And then there's this: "It's facially ludicrous that what Mr. Sterling said in these circumstances could produce the equivalent of a death penalty…"
Yes, that's actually what it says. A $2.5 million ban and a ban from a sports league as "the equivalent of a death penalty."
The letter also points to other controversial remarks made by individuals in the NBA, including reported derogatory remarks against openly gay player Jason Collins, a former NBA player who made some questionable remarks about Jews, and Shaquille O'Neal's past mock-Chinese when talking about Yao Ming.
And, of course, Sterling's attorneys also tout how much Sterling has done to promote diversity and inclusion in the NBA. Example? "Mr. Sterling recently terminated a Caucasian head coach and traded for an African American head coach who is now among the most highly paid and respected in the league."
Well, case closed.
You can watch USA Today's Jeff Zillgitt report on the newest Sterling developments here:
[h/t USA Today]
[image via Danny Moloshok/Reuters]
— —
Follow Josh Feldman on Twitter: @feldmaniac
Have a tip we should know? tips@mediaite.com
Josh Feldman - Senior Editor