Steve King Uses Liberal Group's Video In Fundraising Email, And They Slip In A Message To His Supporters…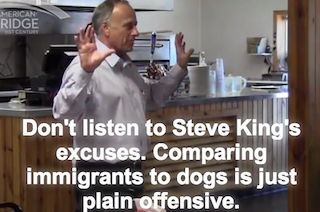 Over the past few weeks, Iowa Congressman Steve King showed that he's not one to mince words on illegal immigration. He might, however, want to look into how to rip videos.
King sent out a fundraising email to his supporters Monday morning with a video of a speech from last year, in which he argued that America's immigration system should choose the "pick of the litter" from "donor countries." These remarks led recently to a feisty exchange with Univision anchor Jorge Ramos, who accused King of comparing immigrants to dogs, a claim King vociferously denied.
King asked his supporters to decide for themselves whether he was "complimenting immigrants." But the video he embedded was taken from American Bridge, a liberal activist group. When they noticed King was playing their media, they snuck in a couple messages to his donors.
"Don't listen to Steve King's excuses," read the first pop-up. "Comparing immigrants to dogs is offensive." A second directed viewers to a mashup of King's previous controversial statements: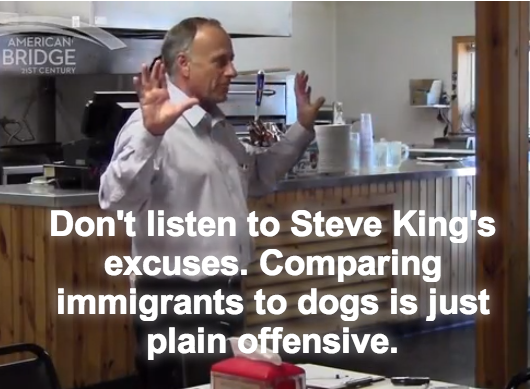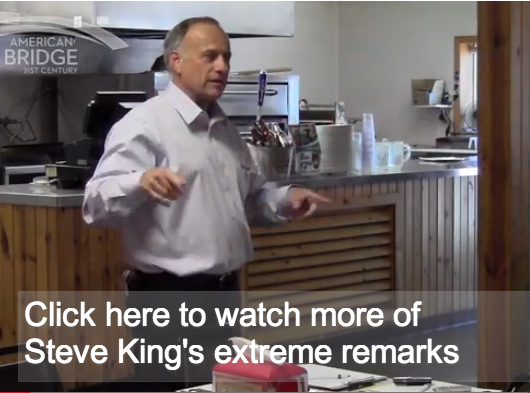 "In this video it is clear I complimented legal immigrants," King wrote below the video, an unintentionally ironic statement given the unwelcome commentary.
These, by the way, are not the comments that have gotten King in trouble with his party. His recent remarks on drug smuggling illegal immigrants with "calves the size of cantaloupes" got King denounced by his own party leaders last week for going too far in his rhetoric.
Watch King's fundraising video:
Watch the segment that reignited the controversy over King's remarks, via ABC Univision:
[h/t Business Insider]
—
>> Follow Evan McMurry (@evanmcmurry) on Twitter
Have a tip we should know? tips@mediaite.com