Sumner Redstone Leaves Reporter Creepy Voicemail Promising Not To 'Kill' Anonymous MTV Source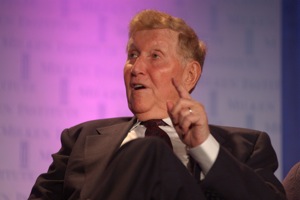 Viacom head Sumner Redstone is furious with claims that his new pet project, a Pussycat Dolls-esque pop band/reality TV package called the Electric Barbarellas, is terrible. After Daily Beast senior correspondent Peter Lauria wrote a report that Redstone is trying to "force" MTV to promote the band in a new reality show, Redstone left an ominous voicemail on the writer's office phone asking for the identity of the source that leaked him the story.
"We're not going to kill him. We just want to talk to him… We're not going to hurt this guy. We just want to sit him down and find out why he did what he did. You will not in any way be revealed. You will be well-rewarded and well-protected," he tells Lauria in a voicemail that can only be described as something Joe Pesci would say in a Scorcese film. Lauria had written that of the band as "sexy but talentless" and that Redstone had taken his "dirty old man act too far" by forcing the band on MTV. Now Redstone wants the identity of the person who told Lauria of the band, but just "to talk."
The voicemail lasts about three minutes and isn't all a long "don't think of an elephant" game with the anonymous source's life. Redstone also takes the time to defend the group in question, the Electric Barbarellas (named after the 1997 Duran Duran single, we assume), calling them "the best show we've seen in ten years" and defending their honor against the unsourced accusations that they are being forced onto MTV despite being slightly less impressive than Redstone would have the media believe.
It appears that Lauria is very much so not interested in disclosing the identity of his source, writing "sorry, Sumner, but happy hunting"— even if Redstone says it is "inevitable" he will be found out, as it has been narrowed down to four possibilities. Lauria also doesn't seem interested in playing nice with Redstone at all, as he released the strangely alluring audio of the entire voicemail, which, courtesy of the Daily Beast, you can listen to below:
Have a tip we should know? tips@mediaite.com