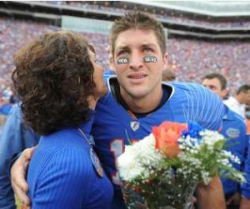 CBS and other networks have longstanding policies not to air "advocacy" commercials, which provoke viewers to take and possibly even discuss their stances on public issues. This Super Bowl Sunday, however, CBS is making an exception. A big one.
Evangelical Christian group Focus opened its wallet (which they say was fattened to Super Bowl status by "generous friends") to broadcast a "celebration of family"-themed pro-life commercial during the game. The commercial will feature Florida Gators quarterback Tim Tebow and his proud mother, Pam, sharing her story of how faith convinced her to ignore her doctors' concern for her health and continue on with her pregnancy.
The mystery here is why CBS is allowing this heated and particularly timely topic (tomorrow marks the 37th anniversary of Roe v. Wade) of abortion to distract from the ritual hoovering of wings and shouting at the TV. It's particularly puzzling since during Christmas of 2004, they along with NBC rejected several commercials funded and filmed by the United Church of Christ on the basis that their religious theme was too apparent, like this commercial in which Jesus doesn't reject you:

Focus, on the other hand, is stalwartly right-wing in its advocacy, offering a substantially clearer message than religious all-inclusiveness. And come February 7th, an estimated 100 million football fans will hear about it. Tebow's stance, as a devout Christian (and football player), makes him an obvious choice for spokesperson.
The commercial marks a decided departure from the gluttony, bouncing cheerleaders, pyrotechnics and 24-pack experience one expects during Super Bowl Sunday. Gregg Doyel of CBS' sports website called for the immediate cessation of stances and emotions, imploring readers to focus on the true issue at hand, football, and declaring Super Bowl Sunday "not a day to discuss abortion. For it, against it, I don't care what you are. On Super Sunday, I don't care what I am."
Would CBS, or any network for that matter, approve a blatantly leftist pro-choice commercial for Super Bowl airtime, either to balance Focus' advertising splurge or simply by itself? (We hear Tila Tequila's just chomping at the bit). Would a pro-choice advocacy group rack up that kind of bill to make a point?
Have a tip we should know? tips@mediaite.com