Supreme Court Strikes Down Arizona Voter Registration Law Requiring Proof Of Citizenship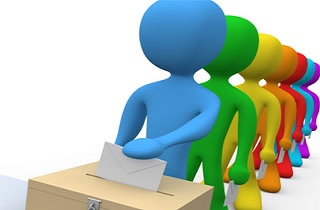 As much of the political world breathlessly awaits decisions on cases involving marriage equality, affirmative action, and the Voting Rights Act, the Supreme Court delivered a decision on an Arizona law that required voters to submit proof of citizenship in order to register to vote. In Arizona v. Inter Tribal Council of Arizona, the court ruled, by a 7-2 margin, that the Motor Voter Act's requirement that applicants swear that they meet the citizenship requirement takes precedence over the state's requirement that voters provide documented proof of citizenship.
As is often the case, though, the court's majority opinion did leave the door open for states to enact such restrictions. SCOTUSblog's Lyle Denniston explains:
The argument before the Court was that the federal law must control, because Congress had specified that, in filling out a federal form, all would-be voters had to do was to swear they are U.S. citizens, while Arizona went further and required an actual piece of official paper to prove citizenship. The challengers argued that the two approaches cannot co-exist, so the state proof requirement had to yield.

On the one hand, the Supreme Court agreed that, for now, Arizona's proof requirement must yield to the federal form's approach — that is, it is enough to register, using that form, if the would-be voter swears that he satisfies the citizenship requirement.

On the other hand, however, the Court also ruled that Arizona can seek permission from federal officials to impose its proof-of-citizenship requirement. If it fails with that request, it can go to court and argue that it has a constitutional right to make proof of citizenship a binding requirement for all voters.
The issue of state photo ID requirements loomed large in the 2012 election, but the federal voter registration form gives applicants a choice:
If you are voting for the first time in your state and are registering by mail, Federal law may require you to show proof of identification the first time you vote. This proof of identification includes the following (or if voting by mail, a COPY of the following):

A current and valid photo identification; OR

A current utility bill, bank statement, government check, paycheck or government document that shows your name and address.

Federal law does not require you to show proof of identification at the polling place or when voting by mail if (1) you provided COPIES of the above with your National Mail Voter Registration Form; (2) your voter registration form has been verified by an election official; or (3) you are entitled by federal law to vote by absentee ballot. Please note that individual states may have additional voter identification requirements.
There was also a 6-3 split on the question of whether federal laws automatically held primacy over state laws concerning federal elections, with Justice Anthony Kennedy defecting to the minority on that point. Justice Samuel Alito and Justice Clarence Thomas were the other dissenters.
Have a tip we should know? tips@mediaite.com