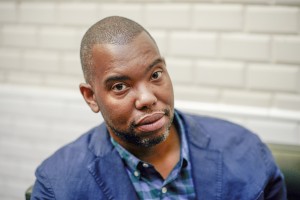 Ta-Nehisi Coates, the acclaimed author and national correspondent for The Atlantic, has just won the coveted "Genius Grant" from the John D. & Catherine T. MacArthur Foundation.
The award, which was announced by the foundation on Tuesday morning, carries with it a $625,000 price tag with which recipients — including writers, artists, scientists, musicians and public figures — can do as they please.
"Writing without shallow polemic and in a measured style, Coates addresses complex and challenging issues such as racial identity, systemic racial bias, and urban policing," the foundation said in an official statement. "He subtly embeds the present — in the form of anecdotes about himself or others — into historical analysis in order to illustrate how the implications of the past are still experienced by people today."
In a video interview with Coates posted on the foundation website, the recipient says that he was "ecstatic" and "deeply, deeply honored" when he got the call.
"We labor in the dark," said Coates. "If anybody even reads what I'm doing, that's a great day."
In an official statement, The Atlantic Editor-in-Chief James Bennet said that he was "delighted that the MacArthur Foundation has reached the same conclusion about Ta-Nehisi Coates that his colleagues and readers at The Atlantic have held for many years."
"His genius is a rare combination of brilliance and singular vision joined to fearless intellectual honesty and boundless curiosity about what the rest of the world thinks, and why."
Coates, meanwhile, used Twitter — a platform on which the journalist is quite prolific — to express his jubilation late Monday night:
Dear age 40, I win. Sincerely, Ta-Nehisi

— Ta-Nehisi Coates (@tanehisicoates) September 29, 2015
Check out the clip above, via the MacArthur Foundation.
[h/t The Huffington Post]
[Image via John D. & Catherine T. MacArthur Foundation]
— —
>> Follow Andrew Husband (@AndrewHusband) on Twitter
Have a tip we should know? tips@mediaite.com