Tantaros Blurts Out That the 'Clinton Household' Should Be Sent a Sexual Harassment Manual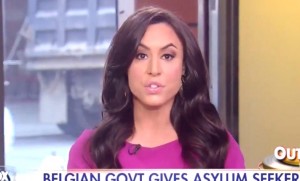 Today on Outnumbered, Andrea Tantaros out Tantaros-ed herself during a segment on a manual that is being distributed to refugee men from the Middle East. The manual has been designed to teach men the proper way to interact with people and includes tips on looking people in the eye when speaking, shaking hands, avoiding fist fights, and not striking children.
For men who come from societies rife with religious oppression and repression, especially, advice on not making a scene in the presence of a gay couple or immodestly-dressed woman is important, even if it seems unnecessary to Westerners. Coupled with the consent classes Norway is teaching to prevent rapes, these are intended to be positive steps forward in marrying unlike cultures and creating harmony within the Western countries refugees are rapidly entering.
Harmony isn't something that Tantaros is known for in some circles. Certainly, she says a lot of incendiary things and today, she did not deviate from that standard. When a drawing from the manual that depicted a man groping a woman appeared on the screen with a big, red "x" superimposed over the image, Tantaros seized the opportunity to make a quip.
"We could get a copy for the Clinton household, perhaps," she said. "Maybe they could use it there."
Stacey Dash grinned while Harris Faulkner pointed out that the issue at hand was a little too serious for jokes.
After Faulkner went on to tie in the thousands of assaults that were reported across Germany a few weeks ago, Tantaros back-peddled a little, saying, "I don't take light of this story … I'm never gonna miss an opportunity to take a shot at the Clintons, though."
[image via screengrab]
For more from Lindsey, follow her on Twitter.
Have a tip we should know? tips@mediaite.com