Tapper Claps Back at 'Dimwitted Propagandists' RT America For Saying He Gave Obama a Pass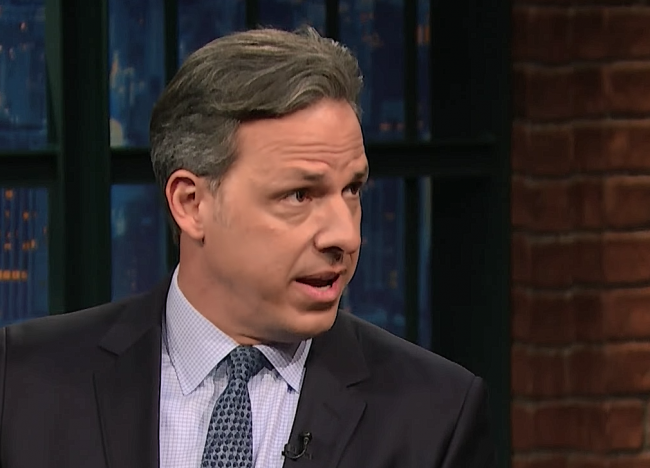 In a recent interview with Rolling Stone, CNN anchor Jake Tapper acknowledged that there has been a disparity in the way the media has covered President Donald Trump and how it reported on his predecessor, Barack Obama. While stating that the scale of uttering falsehoods wasn't the same between the two, Tapper noted that "Obama said things that weren't true and got away with it more for a variety of reasons, and one is the media was much more supportive of him."
Well, the way RT America's The Resident sees it, since Tapper called out the mainstream media for going easier on the 44th president because they were generally supportive of him, that means Tapper admitted to personally giving Obama a pass.
Below is video of the segment:
This morning, the State of the Union host took to Twitter to respond:
No I didn't, you dimwitted propagandists. https://t.co/Ym3g7Ssgcf

— Jake Tapper (@jaketapper) August 18, 2017
Tapper was obviously referencing the fact that RT is seen as a propaganda outlet for the Kremlin, with the American intelligence community reporting that it contributed to an influence campaign to impact the 2016 election.
This isn't the first time Tapper has hit back against RT America after they've targeted him. In January, he delivered a knockout blow to an RT anchor criticizing CNN's coverage of the inauguration, telling her to tune in next time when he's discussing her boss Vladimir Putin's human rights abuses. A couple of months later, after The Resident criticized him, he pondered why the "propaganda channel" was targeting him while listing off Russia's poor record on human rights.
[image via screengrab]
—
Follow Justin Baragona on Twitter: @justinbaragona
Have a tip we should know? tips@mediaite.com