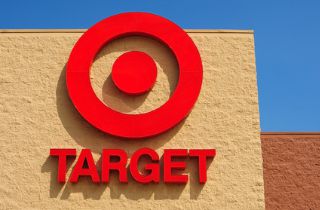 A Target store in California might be in a bit of trouble after some graphic, profanity-laced porn audio was played on the store loudspeakers in the middle of the day.
Gina Young recorded a video yesterday of herself going shopping with her twin sons, and ended up capturing the first moments of sexual moaning and groaning. Asking to herself "what was going on" as her boys started to cry, she later uploaded the video to Facebook and described the general sense of panic and disbelief that spread through the store.
"People offered to help me cover my twins' ears. Others threw there stuff down and walked out. Employees were running around everywhere," Young wrote. "People were screaming at employees, video taping, some laughing some disgusted. It was terribly awkward."
Young said that she originally wanted to shoot a video showing the "cute things twins do," but ended up showing how unhappy employees and shoppers were with the 15 minutes of dirty talk. "The employees ran all around the store picking up and hanging up the store's phones," Young said. "Finally it worked…. But for about 2 mins then it came back on."
Target spokeswoman Molly Snyder released a statement saying the retailer would be looking into the incident.
"We are actively reviewing the situation with the team to better understand what happened and to help ensure this doesn't happen again," Snyder said. "Because this is an active investigation, I'm unable to share additional details, but we want our guests to know that we take this very seriously."
You can watch Young's account in the videos here and here.
[h/t NY Daily News]
[Image via artzenter/Shutterstock]]
— —
>> Follow Ken Meyer (@KenMeyer91) on Twitter
Have a tip we should know? tips@mediaite.com