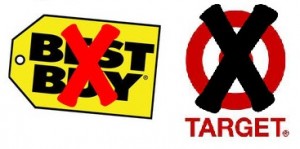 Retailers Target and Best Buy are under fire from gay rights groups, who are organizing boycotts over both companies' corporate donations to support Republican Minnesota gubernatorial candidate Tom Emmer, who they say is virulently anti-gay. The donations of $150,000 and $100,000, respectively, were made possible by the Supreme Court's hotly debated Citizens United decision, which allows unlimited political donations by corporations. This confrontation will test the limiting effect of the free market on Citizens United.

While opponents of the decision fear it will open the floodgates to a political process already corrupted by moneyed interests, proponents of the decision argue on free speech grounds, and that other, market-based forces will naturally limit the effects of Citizens United.
In this case, both Target and Best Buy have made sizable donations to a Political Action Committee (PAC) that supports Republican Tom Emmer's bid to replace Tim Pawlenty as Minnesota governor. While Emmer is opposed to gay marriage, it is his support for an anti-gay Christian rock band that really rankles:
You Can Run But You Cannot Hide is fronted by a man named Bradlee Dean. And Tom Emmer is a buddy-buddy with Dean and his band. "These are nice people," Emmer said of the band, who have appeared at various Minnesota GOP functions, from statewide conventions to political candidate soirées.

But here's what Bradlee Dean has said about LGBT people.

"Muslims are calling for the executions of homosexuals in America. This just shows you they themselves are upholding the laws that are even in the Bible of the Judeo-Christian God, but they seem to be more moral than even the American Christians do, because these people are livid about enforcing their laws. They know homosexuality is an abomination," Dean previously said.
Emmer's campaign, which has previously donated money to Bradlee Dean's ministry, released this statement on Monday:
"Tom's position on social issues has been very clear and consistent. He is a supporter of traditional marriage, and he strongly opposes any kind of violence or unfair discrimination against any group."
This could be a textbook example of the tension between corporate influence and corporate public image. While the ability to make such large donations certainly increases the potential influence that a company can exert, it also ties them more closely to potential political liabilities. The Republicans' reputation for being "business friendly" must now be counterbalanced with some of their less-attractive social views. This is the flip side of the free speech argument, taking responsibility for what you say.
Target, for example, has developed a reputation as a good corporate citizen, the "good guys" in the world of Big Box retailers. By making such a large donation to Emmer, can they reasonably expect their customers to accept the surgical logic of this Target spokesperson?
A Target spokeswoman said the company supports causes and candidates "based strictly on issues that affect our retail and business objectives." Spokeswoman Lena Michaud said Target has a history of giving in state and local races where allowed, but wouldn't provide detail on those donations.
That's an easier argument to make under the old rules, but a $150,000 donation is difficult to view as anything but full-throated. When I contacted Target with questions about Emmer, they responded with this letter to concerned employees, essentially an expanded version of their existing statement.
It will be interesting to see how this plays out, but I doubt that it will make or break Citizens United. I suspect that, rather than putting a chill on large corporate donations, it will have the effect of shunting the money to more generic, national PACs that aren't tied to a particular candidate, or his most extreme views.
This cuts both ways, though. An intriguing possibility is that conflicts like this will cause Republican politicians to moderate their views on a range of issues, counterbalanced by Democratic politicians who become less labor-friendly in search of those big donations.
Have a tip we should know? tips@mediaite.com