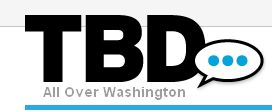 They found a goat's head in my local park and it turns out the grocery stores are really crowded in D.C.   I know this because the much-talked-about TBD.com debuted today and the hyperlocal coverage has zeroed in on a park near my house.
From the start, TBD promised to give people in the D.C. area news from their neighborhoods and I'd say finding a goat's head in the local park pretty much proves they can do it.  The story–using TBD's model–was not done by TBD staff but by a local blogger ARLnow.
TBD is owned by Allbritton Communications which also owns Politico, although there was no visible Politico content on the site. Instead, it provides content from the local ABC-affiliate that Allbritton runs as well as the local all-news channel which has been rebranded TBD.tv.
So how is the competition reacting? When I went to the most specific local possibility at the Washington Post, I got a day-old story about chef Roberto Donna going bankrupt and owing my county money and a two-day old story about trees causing power outages.  Not quite as useful, but informative enough.
The hyperlocal approach isn't perfect.  I don't live in a tony, hip part of the Washington area so the number of local bloggers is pretty limited.  If I lived in the hip (and blogger-centric) parts of Washington, D.C.–like the 20009 zip code which includes DuPont Circle, Adams Morgan and U Street–I'd have a lot more news but no goat heads.
I'd have it much worse if I lived in majority-African American Prince George's County where someone with a zip code in Landover gets only two stories that are less than a day old although people in Anacostia–D.C.'s poorest neighborhood–do have a suprisingly good selection of stories (better than in my Virginia suburban 'hood, for what it's worth).
The lead story on grocery stores, however, illustrates a challenge for TBD.  The TBD-created content on the site was pretty thin and very D.C.-centric.  If you aren't from the area, you may not realize that D.C. itself is actually a very small part of the larger community with a relatively small population.
The story, but former DCist editor Sommer Mathis, involved Mathis walking down the aisles of three grocery stores that are probably within a mile of each other in pricey (and increasingly white) central D.C.  From there, it is assumed, we have a trend.  The article acknowledges food deserts in non-hip and non-relatively white parts of the region, but the story appears geared towards the same demographic of DCist: young, educated, and white.
In fact, all of the TBD-generated content seemed to involve D.C.  From Mary Poppins to jaywalking to the D.C. mayor's race, it was D.C.-all-the-time.  Which is fine, I guess, if you live in the city.  But if the goal of TBD is to by hyperlocal and cover life in the region, it needs to look beyond one-square mile of the Logan Circle Whole Foods.
TBD's editor Erik Wemple acknowledged that the site still has some bugs and tried to spell out some of the numbers: a dozen reporters, 129 community bloggers, "an aggressive news-filtering machine," but alas no iPhone app.  But the site looks great and has some interesting features, including a facts-checking blog and a  blog by TBD staffers covering the area (although that content doesn't appear for my zip code and therefore I almost missed out on news about another hookah bar).
While I'm still wondering why they needed to know my gender when I registered (and the ads and news aren't different when I register as a woman) it appears the site is off to a good start.
Now I need to find out about that goat's head.
Have a tip we should know? tips@mediaite.com