TBT: Mike Tirico, New Face of NBC's Olympic Coverage, Was Once Accused of Harassment By Six Women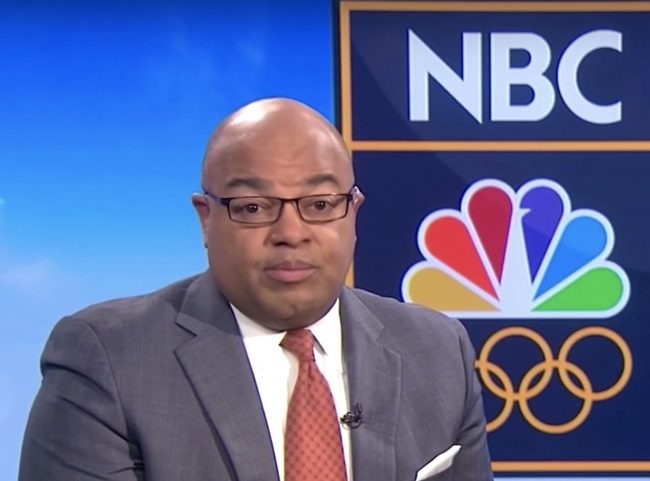 The Olympics begin Thursday night on NBC. And for the first time since 1992, someone other than Bob Costas will be leading the network's coverage.
Veteran broadcaster Mike Tirico will handle the primetime hosting duties from South Korea over the next 18 nights. Tirico was hired by NBC in 2016 after spending a quarter century with ESPN — where he served as the play-by-play announcer for Monday Night Football, among other high-profile assignments.
But in the wake of the Harvey Weinstein scandal and the dawn of the #MeToo movement, some have taken a second look at a series of sexual misconduct allegations levied against Tirico during the early portion of his tenure at ESPN.
Two books about ESPN — 2001's ESPN: The Uncensored History, and 2011's Those Guys Have All The Fun — detail accusations of sexual harassment against Tirico by six different women. (via The Washington Post) One female production assistant claimed the sportscaster stalked her. A female producer alleged (via Deadspin) that the married Tirico approached her one night at a bar.
"I wish I was single," Tirico allegedly said. "If I were, I'd throw you on the table right here and fuck your brains out."
The Hollywood Reporter reached out to NBC shortly after the Weinstein scandal broke. They defended giving him the major assignment.
"When we hired Mike in 2016, we were aware of the incidents from more than 25 years ago, which had been addressed in 1991-92 by ESPN, his employer at the time, and for which he has apologized," an NBC Sports spokesperson told The Hollywood Reporter. "Mike has repeatedly assured us that this behavior is long in his past, and we have no evidence of anything to the contrary in his tenure at NBC Sports."
The Hollywood Reporter also sought comment from ESPN.
"These charges were aggressively addressed 25 years ago with a lengthy suspension," an ESPN spokesperson said.
There is no reporting which run's counter to NBC's position. Tirico has not been accused of any sexual misconduct since the early '90s. Still, as the Washington Post noted in a Dec. 10 piece authored by Callum Borchers:
NBC — which also recently fired political analyst Mark Halperin amid sexual-harassment allegations — is acutely aware that another bad surprise would be hugely embarrassing. Given Tirico's history, a single new accusation could make it much harder for the network to stand by the man it is counting on to succeed Bob Costas.
[image via screengrab]
——
Follow Joe DePaolo (@joe_depaolo) on Twitter
Have a tip we should know? tips@mediaite.com
Joe DePaolo - Senior Editor