Team Hillary Lasso-Reporters Idea Once Again Fuels 'Annoyed Queen' Narrative
The dreaded "O" word has reared its ugly head and onto the radar screen again:
Optics.
It is a much-discussed word of the Obama presidency (golfing at the most inappropriate times, as seen 20 minutes after announcing the ISIS beheading of American journalist Jim Foley) and before (the Greek columns at the '08 DNC, which elevated his image even higher at the time). It was during the Romney campaign, where is was rarely a good thing–from the Gordon Gekko image he couldn't shake to the car elevator in the California home to the dog on the roof of the car.
Fast forward to 4th of July 2015, and Hillary–who has run about as poor a campaign as anyone out there outside of Mike Huckabee–appears to not understand the power of the O-word either. Exhibit A was the rodeo that was her campaign stop yesterday in Gorham, New Hampshire. The pictures tell the story, which we'll allow our friends from the New York Times, ABC News and CNN to do via the Twitter:
Clinton advance aides create a rope line for the press, moving with the candidate pic.twitter.com/9S7CpVt7x4

— Maggie Haberman (@maggieNYT) July 4, 2015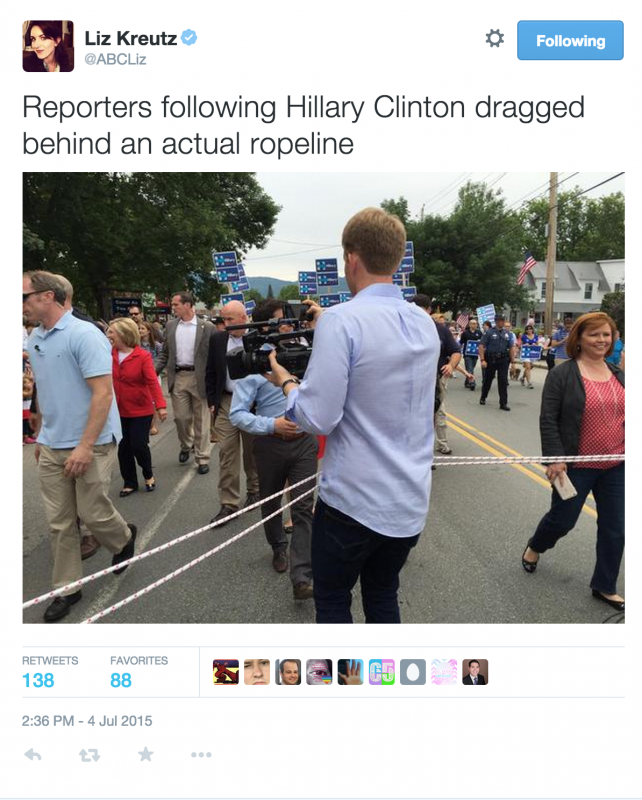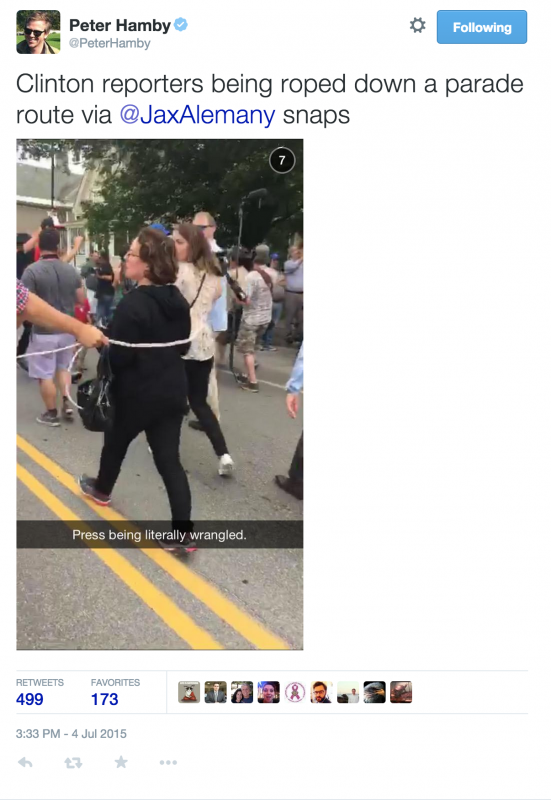 Not so unsurprisingly, the Clinton camp has yet to respond to why they decided to go this route. And for a moment, just try to imagine a world where this happens during a Donald Trump campaign event…Twitter would melt while cable news coverage of the same scenario on some networks would at least quadruple. Note: Hillary has a huge media throng following her. It's a problem Bobby Jindal to Rick Santorum to Lindsay Graham wished they had. All understood. But this is absolutely not how you control reporters covering the likely Democratic nominee from getting to close to the candidate. Instead, designated areas along the route for reporters/camera crews to get what they need would have been far more logical.
The whole spectacle plays into a narrative that is no longer a right-wing conspiracy: Mrs. Clinton's refusal to take more than a handful of questions here and there after going more than 40,000 minutes of answering any questions at all. The New York Times' Maureen Dowd–obviously a staunch conservative–nailed it:
Hillary, your syndrome is less mortal, more regal, a matter of "What Is Hillary Owed?" Ronald Reagan seemed like an ancient king, as one aide put it, gliding across the landscape. You seem like an annoyed queen, radiating irritation at anyone who tries to hold you accountable. You're less rhetorically talented than Bill but more controlling, so it's harder for you to navigate out of tough spots.
Softball questions, no questions, the press shunned. 491 days until Election Day and Hillary's already taking a knee, going four corners…trying to run out the clock.
In today's viral world, optics are more important for national candidates than ever. Americans are working harder and paying less attention to the details when it comes to a broken Washington DC.
A picture is worth 1000 words. And if the repulsed reaction to seeing reporters treated like rodeo animals is any indication, Team Hillary better figure out a better strategy to avoid the invariably-dubious O-word again and again.
[Image via Maggie Haberman Twitter<]
— —
Follow Joe Concha on Twitter @JoeConchaTV
Have a tip we should know? tips@mediaite.com