Tebowing on the Floor of the House? Former Quarterback Encouraged to Seek Political Office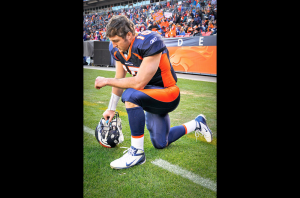 Although former Denver Broncos quarterback Tim Tebow may not have been known for his arm strength and passing ability, the devoutly religious public figure may toss up a Hail Mary anyway and seek a seat as a U.S. Representative.
That, at least, is the hope for some who are urging the 28-year-old to consider political office in the state of Florida, where he played his college ball for the Gators. Just as Republican state Representative Ander Crenshaw has unexpectedly announced his retirement, attention has shifted towards Tebow, who has mulled the possibility of life in politics before.
Congressman Crenshaw's district in Florida includes Jacksonville, where Tebow lives and runs a sports-consulting firm, in addition to the Tim Tebow Foundation.
As recently as a March 29 appearance on Fox & Friends, the former quarterback — widely known for his signature "Tebowing" stance of genuflecting on the football field in prayer — said of a potential political run, "If there's a chance you can make a difference someday at something, then that would be intriguing." Tebow's connection to his christian faith is undoubtedly a massively contributing factor to his presumed conservative politics, and an element of personal character that Florida voters may have a hard time ignoring.
Oh, and winning two National Championships in Gainesville doesn't hurt for brand recognition, either.
Even as far back in 2012, Tebow seems to at least have considered the possibility, though back then he was still an active NFL player before his prospects were ruined during a PR circus season with the Jets. He told the Gold Channel's Dave Feherty, "…it could be something in my future. If it's something I care about, possibly."
Have a tip we should know? tips@mediaite.com